Below you will find a variety of printables featuring the State of Arizona for your students to practice and learn with.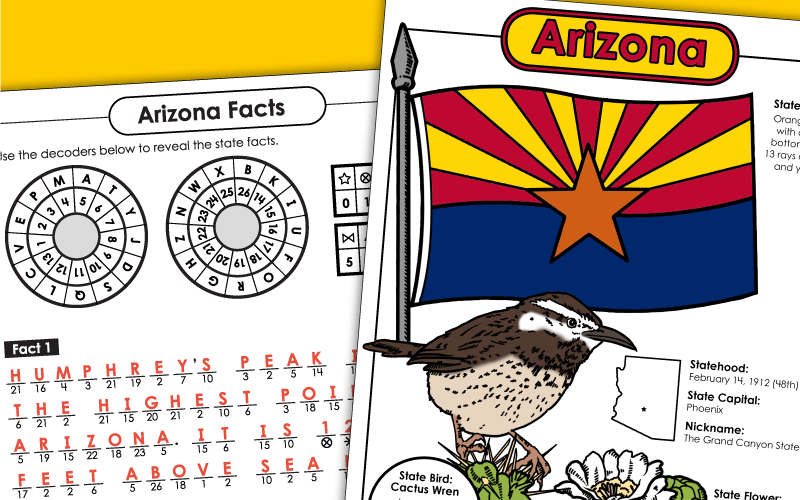 Have your students solve this cryptogram puzzle so they can learn two new facts about the State of Arizona.
4th and 5th Grades
Find sixteen words hidden in this word-hunt puzzle. Search for: Hoover Dam, Grand Canyon, Flagstaff, Phoenix, southwest, Ditat Deus, mesa, copper, cactus wren, Colorado River, four corners, and saguro cactus.
3rd through 5th Grades
Students will have fun unscrambling these words to find different symbols and geographic points for the state of Arizona.
3rd through 6th Grades
Why is Penelope wearing her life preserver as she drives through the desert landscape of Arizona? Her answer is perfectly logical.
4th through 6th Grades
Use a map of the USA to find which state is shown on this worksheet and then complete the information on the bottom.
4th and 5th Grades
Complete Listing of 50 States
Each of the fifty states has their own page with printable maps, worksheets, and activities on each one.
States and Capitals Worksheets
This page has printable maps, games, puzzles, and other worksheets featuring US states and their capitals.
Social Studies Index
Your class can learn about the branches of US government, American history, and other topics with the printables found from this listing.