Below you'll find a collection of worksheets, activities, games, and puzzles for teaching students about the State of Alabama.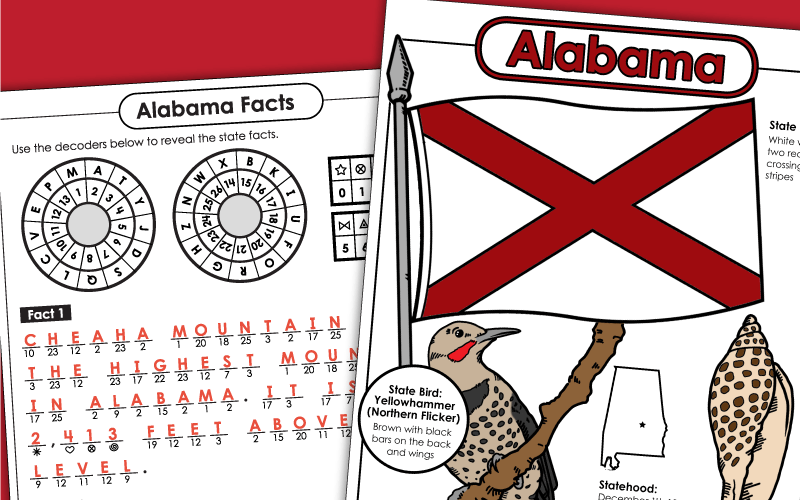 Students will use the decoders to reveal and learn two state facts about Alabama on this puzzle page.
through 5th Grades
This Alabama word search puzzle features words such as: Birmingham, Talladega, Gulf of Mexico, and Chattahoochee River.
3rd through 6th Grades
Test your skills at unscrambling these words related to the state of Alabama. Some of the words are state symbols and others are geographical features.
3rd through 6th Grades
Miss Peabody is going to space camp and then she's going to race her convertible on the Talladega Speedway.
4th through 6th Grades
Have students guess the mystery state. Then list the capital, state bird, adjacent states, and other stats.
4th and 5th Grades
Index to Individual State Pages
Click here to find a full list of pages for the fifty states of the USA and the worksheets for each.
50 States and Capitals
This page has printables for teaching about all 50 states and capitals.
More Social Studies Topics
We have a huge collection of Social Studies topics, including landforms, states, continents, economics, Native Americans, explorers, American Revolution, Colonial America, and more.