Martin Luther King Jr. Worksheets
Print these worksheets for Martin Luther King Day (third Monday in January).  Worksheets include math practice sheets with pictures of M.L.K., as well as a Martin Luther King word search puzzle.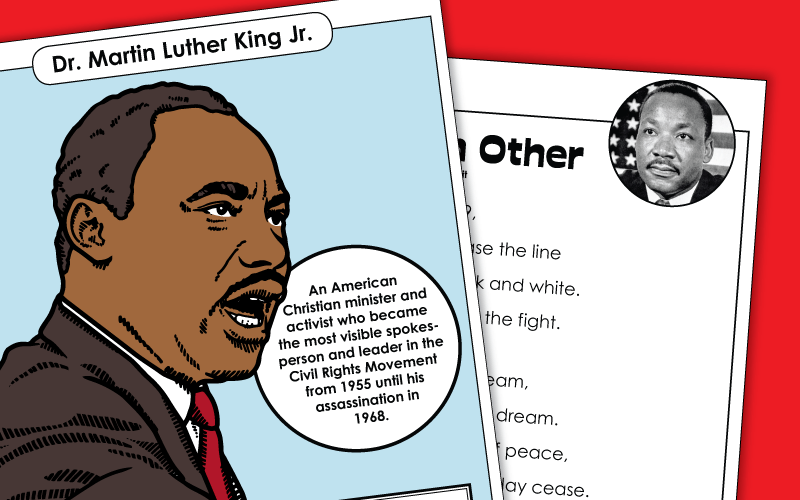 Article about the life of Martin Luther King.  Includes reading comprehension questions.  Approximately 2nd-3rd grade reading level.
3rd Grade




Logged in members can use the Super Teacher Worksheets filing cabinet to save their favorite worksheets.
Quickly access your most used files AND your custom generated worksheets!
Please login to your account or become a member and join our community today to utilize this helpful feature.

Biographical overview of Martin Luther King's life.  Approximately 4th-5th grade reading level.
5th Grade
Martin Luther King Jr. spoke of peace in hopes of achieving equal rights for all.
1st through 3rd Grades
Find the words freedom, non-violent, fairness, peaceful, equality, and leader in this word find activity.
2nd through 4th Grades
Picture of Martin Luther King giving his "I Have a Dream" speech in Washington D.C.
Basic addition math drill sheet with addends 0 through 9. Includes Martin Luther King graphics.
1st and 2nd Grades
Find the sums of three-digit addends. These problems require knowledge of regrouping. Includes an MLK-themed word problem and a picture of King.
3rd and 4th Grades
Subtract three-digit numbers. These problems require borrowing/regrouping. There is an MLK word problem and picture.
3rd and 4th Grades
Multiply 3-digit by 1-digit numbers. (example: 453x7) Includes a word problem related to Martin Luther King Jr. Day and colorful MLK graphics.
4th Grade
Holiday Worksheets
We have worksheets for all major holidays.