Halloween Spelling Grade 4
This is our special Halloween spelling list unit. Word list includes: pumpkin, scarecrow, vampire, trick-or-treat, witch, wizard, October, ghost, eyeball, goblin, spider, skeleton, and broomstick.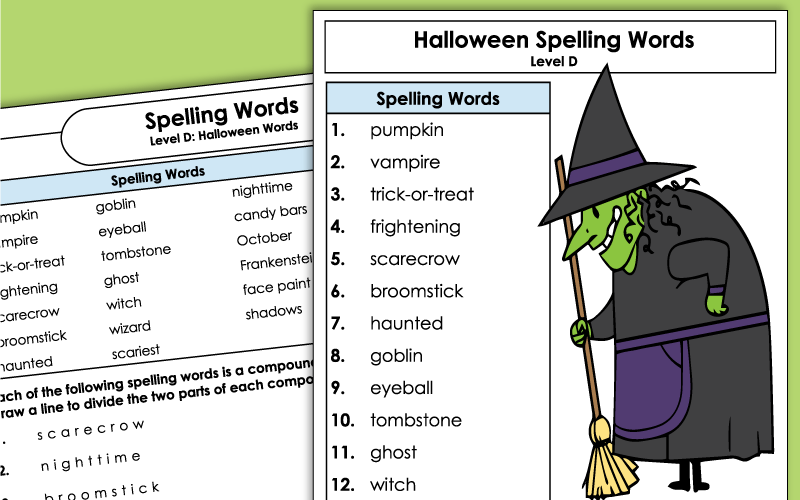 This list has Halloween words, such as skeleton, ghost, witch, broomstick, frightening, trick-or-treat, and spider.
4th Grade
Here is an activity that gives your students the opportunity to practice their spelling words in a variety of exercises. Unscramble the spelling words, complete the sentences, answer phonics questions, and more. An answer key is included.
4th Grade
In this spelling activity, students will circle the spelling word in each sentence and identify whether it is spelled correctly or incorrectly. If the answer is incorrect, they will spell it correctly on the line provided.
4th Grade
See if you can unscramble each spelling word in this printable spelling activity. An answer key is included.
4th Grade
Neatly write each of this week's spelling words two times on the lines.
4th Grade
Can you find the Halloween words hidden in the puzzle? Words are hidden vertical, horizontal, and diagonal.
4th Grade
In this activity, students make their own word search puzzle by hiding their spelling words in the grid diagonally, vertically, and horizontally. Students can give the word search to a friend to solve.
5th Grade
This printable spelling activity helps students with their typing and spelling skills.
4th Grade
Printable flashcards for you to use with this Halloween spelling unit for fourth grade.
4th Grade
Cut out each of the Halloween spelling words and paste them in alphabetical order into the chart. An answer key is included.
4th Grade
Write all of your spelling words alphabetically on this page, starting with abracadabra and ending with wizard.
4th Grade
Arrange each group of spelling words into alphabetical order. An answer key is included with this printable spelling activity.
4th Grade
Students can write Halloween words on the blank lines as their teacher reads them aloud.
4th Grade
Here is a list of 25 sentences you can read aloud to your students for their Level D Halloween words spelling test.
4th Grade
This file has all spelling lists (including holiday and theme lists) for 4th grade spelling.
4th Grade
Full 4th Grade Spelling
This page will link you to an index of all 4th grade spelling units.
Halloween Worksheets
This page has tons of Halloween-themed crafts, early literacy worksheets, reading comprehension passages, and math mystery pictures.