4th Grade Spelling Unit D-21
Silent consonants is the topic for Spelling Unit D-21. List: muscle, answer, whistle, plumber, column, mortgage, soften, castle, ballet, subtle, cupboard, handsome, autumn, debris, wrestle, acquire, knowledge, salmon, yolk, buffet, gourmet, and raspberry.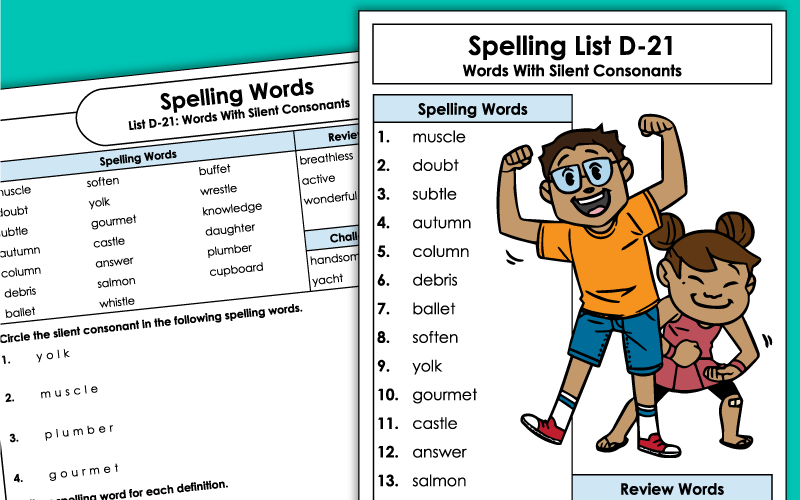 This weeks unit focuses on silent consonants. Words include muscle, doubt, subtle, daughter, castle, yolk, salmon, debris, gourmet, ballet, autumn, plumber, wrestle, whistle, answer, column, knowledge, buffet, soften, and cupboard.
4th Grade
In this printable spelling activity, students will answer phonics questions, unscramble the spelling words, complete the sentences, and identify the spelling word for each given description. An answer key is included.
4th Grade
Learn this week's spelling words with this printable questions worksheet. Identify the spelling word in each sentence. If it is spelled incorrectly, spell it the right way on the line.
4th Grade
The words in this unit all have a silent consonant in them. Write in the correct word for each of the 25 clues for this crossword puzzle.
4th Grade
On this page, students will try to unscramble all of the spelling words.
3rd Grade
Carefully examine this word search to find this weeks spelling words. Words are hidden horizontally, vertically, and diagonally.
4th Grade
Do you want to create your own word search? Students can be in control of their learning by using this grid to make their own, unique, word search.
4th Grade
Double the practice by writing the words from D-21 two times. Words include subtle, acquire, gourmet, and debris.
4th Grade
Students will practice spelling and typing skills by typing their spelling words into sentences with this activity.
4th Grade
This PDF has cards with all of the unit twenty-one spelling words on them.
4th Grade
Rewrite each group of spelling words alphabetically.
4th Grade
Practice writing the words from list 21 in alphabetical order. Words include ballet, plumber, whistle, and salmon.
4th Grade
Carefully cut apart the word cards and arrange them alphabetically.
4th Grade
Test students knowledge of this weeks spelling words by using this spelling test template.
4th Grade
Read this list of twenty-five sentences aloud to your students during their spelling test.
4th Grade
On this file, you can see all 38 word lists in the STW spelling curriculum.
Spelling Unit D-22
Grade 4 Spelling Unit D-22 are words that are homophones. List contains: horse, discussed, ate, sense, coarse, knead, cents, seller, aisle, chilly, hoarse, beat, close, I'll, eight, chili, beet, cellar, disgust, need, course, and clothes.
Grade 4 Spelling Units (Full Index)
This page has links to all spelling lists and worksheets for 4th graders.