4th Grade Spelling Unit D-14
Spelling Unit D-14 are all words ending in -el and -le. Word list contains: carousel, kennel, wiggle, cancel, scramble, middle, channel, barrel, vowel, durable, knowledgeable, chuckle, caramel, bicycle, adorable, unpredictable, excitable, couple, pickle, parallel, towel, and jewel.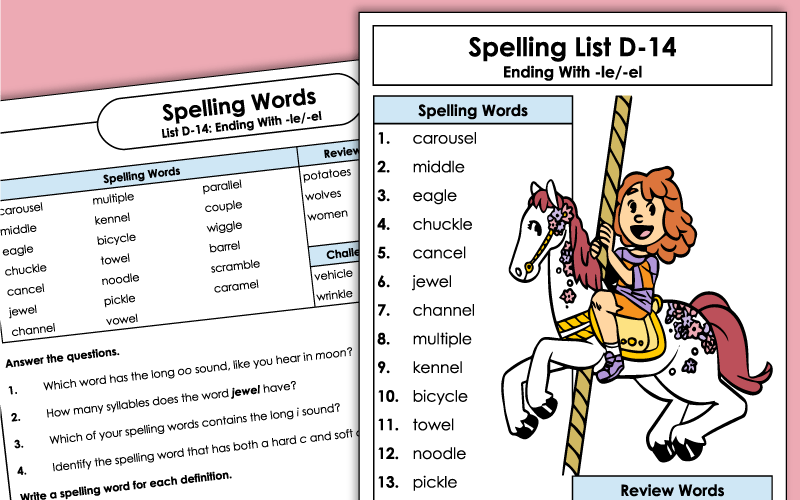 Each of this week's words end with -el or -le. Carousel, couple, channel, barrel, towel, parallel, cancel, pickle, vowel, multiple, wiggle, bicycle, eagle, caramel, chuckle, jewel, kennel, middle, noodle, and scramble.
4th Grade
Answer questions about this week's spelling words. Answer phonics questions, unscramble your spelling words, identify the words from the definitions, and complete the sentences. Bonus questions and answer key included.
4th Grade
Circle the spelling word in each sentence. If it is spelled incorrectly, spell it the correct way on the line provided. An answer key is included.
4th Grade
Students read the clues and print their spelling words in the crossword puzzle.
4th Grade
The letters in the spelling words are all mixed up. Will your students be able to unscramble them?
4th Grade
On this handwriting practice sheet, students try to write each spelling word as neatly as possible on the lines.
4th Grade
On the grid paper, students hide their spelling words to make a word search puzzle. The following day, they can trade papers with classmates to solve.
4th Grade
On this search puzzle, pupils will circle their spelling words.
4th Grade
Students will practice typing their spelling words with this printable activity.
4th Grade
These printable flashcards can be used for a 2-player game. Shuffle the cards and place them upside-down in a pile. Player 1 draws a card and asks player 2 to spell the word. Then player 2 draws a card and asks player 1 to spell it.
4th Grade
Rearrange each word list alphabetically. Example: caramel, barrel, carousel, cancel, bicycle -> barrel, bicycle, cancel, caramel, carousel.
4th Grade
Write all twenty-five spelling words (which includes challenge and review) in alphabetical order on this page. Start with the word barrel and end with the word wrinkle.
4th Grade
Cut out all of your spelling words and paste them onto the table/chart in alphabetical order.
4th Grade
This page can be used instead of loose-leaf paper when administering the unit fourteen spelling test.
4th Grade
Use these spelling sentences to read aloud to your students as they take their Unit 14 spelling test.
4th Grade
This file displays all 30 word lists in the 4th grade spelling series.
Spelling Unit D-15
Grade 4 spelling Unit D-15 are words that end in -er and -est. List: strongest, wandering, smoother, sleepiest, heavier, colder, publisher, calmer, softer, babysitter, manager, windiest, happier, loudest, fastest, silliest, youngest, hungrier, brighter, highest, friendliest, and darker.
4th Grade Spelling (Full Index)
On this page you'll find links to all 30 units in our 4th grade spelling curriculum.