3rd Grade Spelling Unit C-9
Spelling unit C-9 are words with /f/ sounds. This list contains: golfer, family, difference, roof, felt, forgetful, rough, phrase, fashion, full, paragraph, photograph, tough, cough, feelings, enough, and farmer.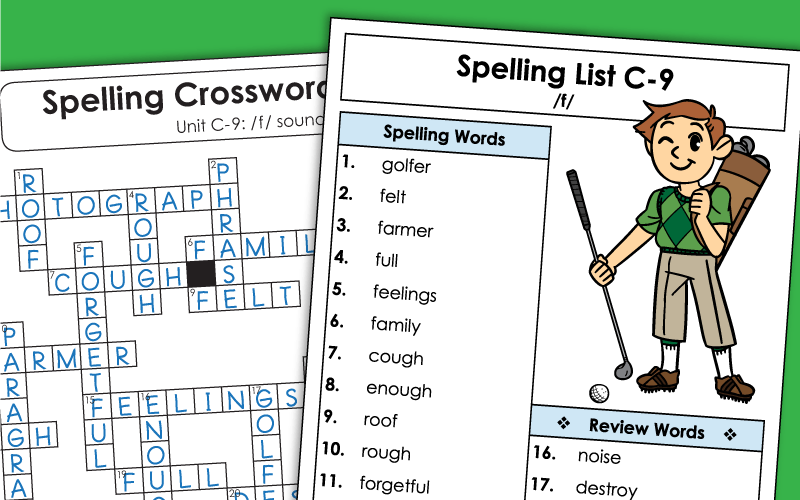 List C-9 features the /f/ sound. Word list: golfer, family, forgetful, paragraph, rough, fashion, felt, photograph, difference, full, farmer, feelings, roof, phrase, cough, enough, and tough.
3rd Grade
How many spelling mistakes can your students find in these sentences?
3rd Grade
Use the clues on the bottom of this printable to complete the crossword puzzle.
3rd Grade
On this printable worksheets, students should try to unscramble the words and write them neatly on the line.
3rd Grade
This search puzzle has all 20 spelling words hidden in it. To find them, look diagonally, vertically, and horizontally.
3rd Grade
Kids can make their own word search puzzle. Add spelling words to the grid. Fill in the empty boxes with random letters. Have a classmate find the words.
3rd Grade
Practice writing each of this weeks spelling words with this worksheet. Words such as photograph, enough, and golfer, are written twice on the lines provided.
3rd Grade
Use this printable activity to give students extra typing practice. Students will type sentences containing their spelling words from this week's unit.
3rd Grade
Print out the spelling activity on card stock. Your students will spin the word wheel and spell each of the words.
3rd Grade
This file contains flashcards with spelling words. Kids can use them to study for the spelling test with a friend.
3rd Grade
Write spelling words alphabetically. The word list is broken into smaller groups of 4 words.
3rd Grade
Alphabetize all spelling words from this week's list and write them on this page.
3rd Grade
Cut out the cards with unit nine spelling words. Arrange them alphabetically. Then glue them onto the page.
3rd Grade
Here's a template teachers can use for their unit nine spelling test at the end of the week.
3rd Grade
This is a list of twenty sentences containing all the spelling words from this unit. You can read these sentences aloud to your students during their spelling test.
3rd Grade
This PDF has all 450+ words in STW's third grade spelling series.
3rd Grade
Spelling Unit C-10
C-10 has words with double consonants, such as spill, errand, carrot, really, traffic, address, berry, litter, happy, happen, messy, pizza, lettuce, collect, and puzzle.
3rd Grade Spelling Units
Here is a link to a menu with all units in our 3rd grade spelling curriculum.