3rd Grade Spelling Unit C-3
This week your students will focus on long-i and short-i words. Full list: pilot, silent, night, tries, fine, time, reply, iron, wise, lines, height, highlight, rhyme, whine, and write.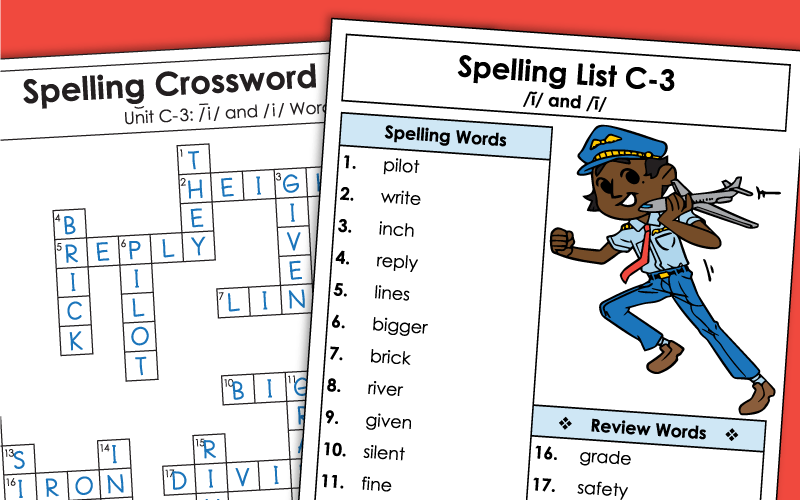 Look for long-i and short-i sounds in these words: pilot, fine, highlight, night, wise, whine, silent, reply, write, time, lines, iron, tries, height, and rhyme.
3rd Grade
First circle the spelling word in each sentence. Then determine whether or not each sentence has errors in it. If it is error-free, write CORRECT on the line. If there is a spelling error, circle the mistake and spell the word on the line.
3rd Grade
This crossword puzzle is a fun way for students to use their spelling words from Unit 3.
3rd Grade
Unscramble each of the scrambled-up spelling words.
3rd Grade
Can you find your spelling words hidden in this word search? Look for them within the puzzle, hidden vertically, horizontally, and diagonally.
3rd Grade
Hide all of the spelling words in the puzzle grid. Then have a family member or classmate solve the puzzle.
3rd Grade
For this activity, students will neatly write each spelling word two times on the lines.
3rd Grade
Your students will use a word processor to complete this typing activity. They will write sentences using their spelling words.
3rd Grade
Print out this spelling activity on card stock and instruct your students to play the game for extra spelling practice.
3rd Grade
Cut along the dotted lines to make spelling flashcards. Students can use them to study with a classmate.
3rd Grade
The spelling list is divided up into five separate clusters of four words. Write each group of words in order, alphabetically.
3rd Grade
Students use their scissors to cut apart the rectangular word cards. Then they arrange them in ABC order and attach them to the page.
3rd Grade
Write all 20 of your spelling words in alphabetical order on this printable worksheet.
3rd Grade
Here's a form kids can use when taking their C3 spelling test. There are 25 blank lines- one for each spelling word.
3rd Grade
Here is a list of sentences you can use for this week's spelling test.
3rd Grade
This PDF has a master word list for all 38 units in the STW spelling series for 3rd grade.
3rd Grade
Spelling Unit C-4
What's the topic for next week's spelling? Click the link above to find out! (Okay, you don't have to click. I'll just tell you here. It's long-o and short-o words.)
3rd Grade Spelling Units
Here's the entire 3rd grade STW spelling curriculum.
Editing Worksheets
Students find mistakes in the paragraphs. Look for errors in capitalization, punctuation, spelling, and more.