2nd Grade Spelling Unit B-5
Words with a short-u sound are the topic of Unit B-5 2nd grade spelling. Word list: bugs, truck, dug, fun, does, under, stuck, but, funny, until, tub, and rugs.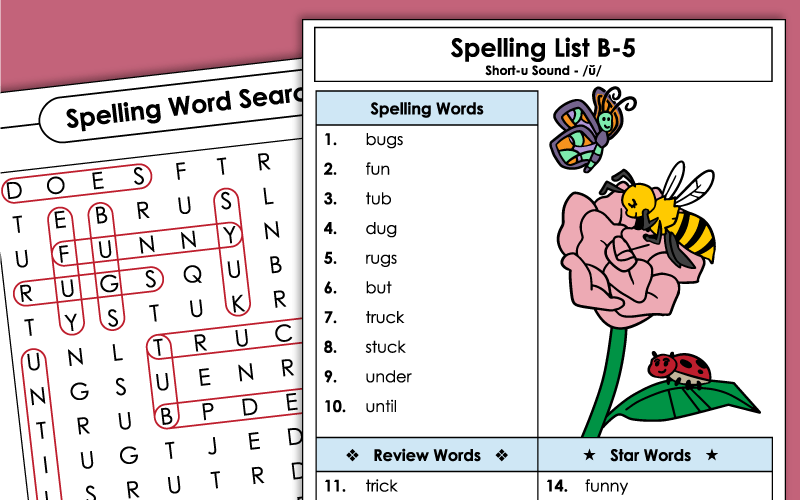 This week's spelling words have a short-u sound. List: bugs, fun, truck, tub, but, dug, until, stuck, under, and rugs.
2nd Grade
10 fill in the blank sentences that use a selection of this week's spelling words. This exercise helps children use their spelling words in a sentence.
2nd Grade
Can your students unscramble the mixed-up sentences? Each sentences has 1, 2, or 3 spelling words in it.
3rd Grade
Unscramble the letters in each of your short-u spelling words.
2nd Grade
Write each of your spelling words, review words, and star words two times on the lines provided.
2nd Grade
Students can circle the words: bugs, tub, dug, under, fun, truck, rugs, until, and does.
2nd Grade
Students can practice their typing skills with this printable spelling activity.
2nd Grade
Spelling flashcards are a great resource for study time! Use these 15 printable flashcards to help your students study this week's spelling words.
2nd Grade
This is a handy word wheel with all of this week's spelling words on it. It's great for classroom games or learning centers.
2nd Grade
Use this cute dog-shaped word slider so students can study their Unit B-5 spelling words. (Use the ALT button to get the full-color version.)
2nd Grade
On this printable worksheet, kids will alphabetize groups of spelling words.
2nd Grade
Write 10 spelling words (excluding star words and review words) in alphabetical order on this worksheet.
2nd Grade
Cut out the B-5 word cards, arrange them in ABC order, and then glue them onto the page.
3rd Grade
As the teacher reads spelling words and sentences aloud, students can write the words on the primary-ruled lines.
2nd Grade
Teachers can read these sentences for the B-5 spelling test at the end of the week.
2nd Grade
Here is a full set of word lists for all 30 second grade spelling units in the STW spelling curriculum.
Spelling Unit B-6
Next week's words have the long-a vowel sound. Full list: rain, snake, paid, say, play, came, made, tape, nail, take, day, and chain.
2nd Grade Spelling Units (Full Index)
From this page, you can navigate to any 2nd grade spelling unit on this website.
Flat Stanley Worksheets
This page has reading comprehension questions and worksheets that you can use with the chapter book, Flat Stanley.