Spelling Unit B-27 (Grade 2)
This unit has words that end in -le. Spelling list features the words: bubble, puzzle, marble, pickle, double, little, angle, jungle, middle, maple, simple, and apple.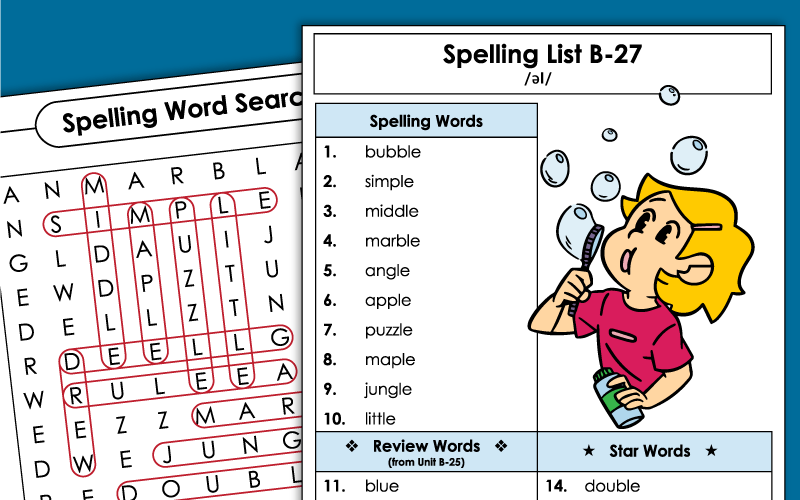 List 27 has words with the schwa+l sound. Bubble, middle, angle, puzzle, jungle, little, maple, apple, marble, and simple.
2nd Grade
In this spelling activity, students will complete the sentences using spelling words from the word bank. An answer key is included.
2nd Grade
Unscramble the words to make complete sentences. Each sentence has at least one spelling word.
2nd Grade
This worksheet has dotted lines for young writers. Students copy each spelling word twice.
2nd Grade
Can you unscramble each of the spelling words in this activity? An answer key is included.
2nd Grade
Search for your spelling words hidden in the puzzle grid.
2nd Grade
Here's an activity that will help students practice their spelling words and their typing skills!
2nd Grade
Spelling flashcards are a great way to help your students study for their spelling test. Use these flashcards for group activities and individual study time.
2nd Grade
Use this word wheel to play a spelling game. Students take turns spinning the wheel and spelling words from this week's list.
2nd Grade
Print out these pages to make a cute dog-shaped word slider to study fifteen spelling words for Unit B-27. (Click on the ALT button below for a full-color version.)
2nd Grade
Write spelling words alphabetically. The word list is broken into smaller sets of words
2nd Grade
Begin by cutting out all 10 word cards. Then alphabetize them. After that, glue them onto the paper on the numbered grid.
2nd Grade
Write the 10 new spelling words in ABC order.
2nd Grade
Kids can write their spelling words on this page as their instructor reads them aloud.
2nd Grade
Here you'll find a set of sentences you can read aloud when you give the spelling test.
2nd Grade
This printable file contains all 2nd grade words in this series.
Spelling Unit B-28
Second grade spelling Unit B-28 are words that contain /er/, /ir/, and /ur/. Spelling list: bird, girl, birthday, burn, fur, after, over, camper, person, hurt, player, and swirl.
Full Index for 2nd Grade Spelling
From this page, you can link to any spelling list in the Level-B series.