Spelling Unit B-28 (Grade 2)
Spelling Unit B-28 features words that contain the letters er, ir, and ur. Spelling list: bird, girl, birthday, burn, fur, after, over, camper, person, hurt, player, and swirl.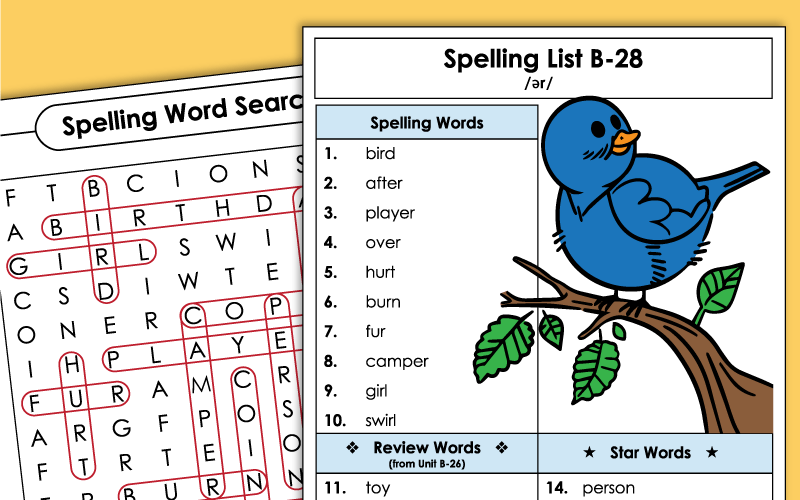 Learn to spell words with the schwa+r sound, such as bird, girl, swirl, after, fur, camper, over, burn, player, hurt, and person.
2nd Grade
In this printable activity, students will complete the sentences with a spelling word from the word bank. An answer key is included.
2nd Grade
Unscramble the spelling words. Write all 10 new words neatly on the lines.
2nd Grade
This PDF has several lines of mixed-up words. Students can rearrange the words to make complete sentences. Each sentences has a spelling word in it; not all words are used.
2nd Grade
This document instructs students to print their words two times each.
2nd Grade
Highlight the spelling words in the word find puzzle.
2nd Grade
Students will type their spelling words using a word processor, such as GoogleDocs or Microsoft Word.
2nd Grade
Here are spelling flashcards for Unit 28. Have your students use these flashcards to study for this week's spelling test. They are handy to use for at-home study time as well as classroom review.
2nd Grade
Print this activity wheel on thick card stock and assemble with a brass paper fastener. Spin the wheel to see spelling words.
2nd Grade
Practice reading spelling words from Unit 28 with this truck-shaped word slider! Cut out the truck and word strip, weave the strip through the slots, and slide the word strip up and down to view the words. (Click the ALT button for a color version.)
2nd Grade
Can you put each group of spelling words in alphabetical order? Sort each group of words into the correct order and write each word on the lines provided.
2nd Grade
Have your kids cut out the word cards on this page. Then they can sort them alphabetically and tape them onto the numbered grid.
2nd Grade
This worksheet has dotted writing lines for students to make an alphabetical list of their spelling words.
2nd Grade
Your pupils can write their spelling words on this page as you read them aloud.
2nd Grade
Read these sentences aloud to your students when giving the B-28 assessment.
2nd Grade
Here is a file with all 450 grade 2 spelling words in this series.
Spelling Unit B-29
Next week's unit focuses on irregular plural words. List: man, foot, women, child, mouse, feet, tooth, children, teeth, men, mice, and woman.
2nd Grade Units
All 2nd grade (Level-B) spelling units can be found on this page.