2nd Grade Spelling Unit B-16
2nd Grade spelling Unit B-16 has words that are homophones. List: to, here, bye, where, hear, buy, by, wear, too, two, no, and know.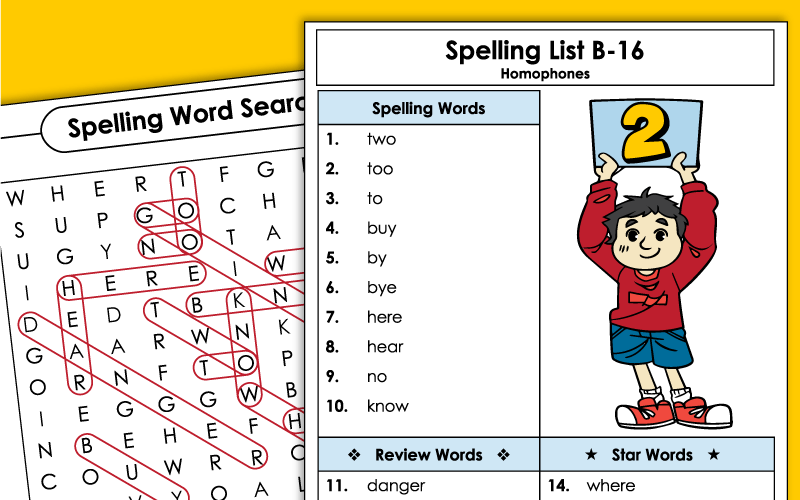 The words on this list are all homophones: two, to, too; buy, by, bye; no, know; here, hear; where, wear.
2nd Grade
Which spelling word best completes each sentence?
2nd Grade
For this activity, your kids can unscramble the letters to make spelling words.
2nd Grade
Unscramble the words to make complete sentences. For example: "you Can the music? hear" becomes "Can you hear the music?"
2nd Grade
Can your students find all their spelling words in this word search puzzle? Words are hidden horizontally, vertically, and diagonally. An answer key is included.
2nd Grade
On this worksheet, pupils can write each word from the spelling list two times.
2nd Grade
Students will practice typing their spelling words using this printable spelling worksheet and a word processor.
2nd Grade
Here is a set of 15 flashcards with this week's spelling words printed on each. These printable spelling flashcards are perfect for individual study or group study.
2nd Grade
Use this word wheel for small group activities, or send it home for students to use as a study tool. Be sure you print it on thick card stock so the wheel spins correctly.
2nd Grade
Print, cut, and put this dog-shaped word slider together. Slide the word strip up and down to view the spelling words from Unit B-16. (Color version of this slider available with the ALT button below.)
2nd Grade
Arrange each group of spelling words so that they are in alphabetical order. Answer key is included.
2nd Grade
Cut out the homophone words, then alphabetize them and glue them onto the numbered grid at the top of the page.
2nd Grade
Kids can list spelling words in alphabetical order on this page.
2nd Grade
Here's the printable page for the homophones spelling test. Kids can spell the words on the lines as their teacher reads them to the class.
2nd Grade
This file has sentences you can read as you administer the unit sixteen spelling assessment.
2nd Grade
Here is a complete list of all words in the 2nd grade STW spelling series. Includes lists for all 30 units, plus holiday and theme units.
Spelling Unit B-17
Grade 2 spelling Unit B-17 feature words that have an /s/ sound. Word list: six, soft, face, fence, since, slice, ask, city, place, price, circle, and ice.
Grade 2 Spelling Units (Full Index)
This page will link you to any spelling unit in the 2nd grade STW spelling series.