2nd Grade Spelling Unit B-13
Second grade spelling Unit B-13 contains words and their plurals ending in -s and -es. List: desk, desks, maps, lunch, flies, kittens, kitten, map, mess, fly, messes, and lunches.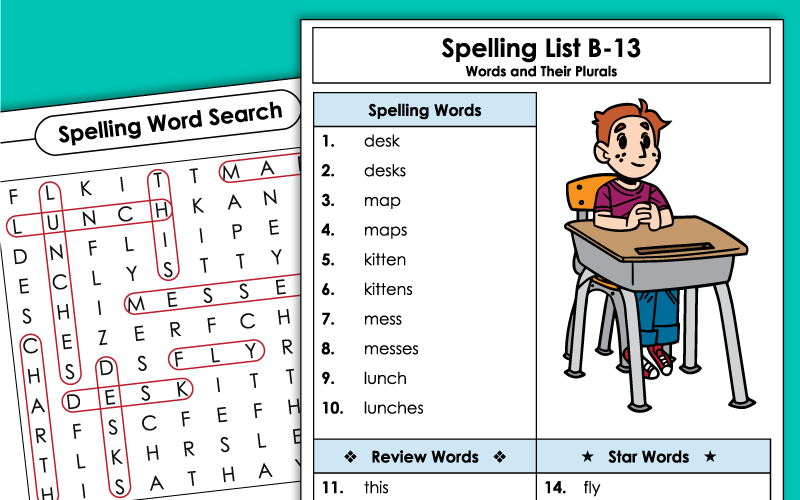 This week, students will learn to spell singular and plural words. Map, maps, kitten, kittens, desk, desks, fly, flies, mess, messes, lunch, lunches.
2nd Grade
Fill in the blanks with a singular or plural spelling word from this week's list.
2nd Grade
Challenge your students to unscramble the letters to make spelling words. example: tetnik --> kitten
2nd Grade
Unscramble the words to make complete sentences. Example: "lunches. eating their They are" becomes "They are eating their lunches."
2nd Grade
Write each spelling word two times on the lines.
2nd Grade
Find each singular spelling word and its plural in the word search puzzle.
2nd Grade
Students will type out their spelling words on a word processor using this printable spelling activity.
2nd Grade
B-13 has a set of 15 printable flashcards that you are definitely going to want your students to use! These spelling flashcards are great for individual review time, group study sessions, and classroom games.
2nd Grade
This word wheel can be used for a 2-player game. Pupil #1 spins the wheel and reads the spelling words aloud. Pupil #2 spells each word. After they have completed the entire wheel, they switch roles.
2nd Grade
Students will have fun using this pig-shaped word slider to practice this week's spelling words. (Full color version through the ALT button.)
2nd Grade
Each group of words needs to be rearranged alphabetically.
2nd Grade
Write each unit thirteen spelling words in alphabetical order on this worksheet.
2nd Grade
Cut out the singular and plural nouns. Then sort them alphabetically, starting with desk and ending with messes.
2nd Grade
This template can be used for your weekly spelling test.
2nd Grade
This file contains a set of sentences that you can read aloud when giving the unit thirteen test.
2nd Grade
This file contains all word lists for 2nd grade spelling units on this website. Use it as a reference tool for parents and teachers.
Spelling Unit B-14
Unit B-14 in the second grade spelling series contains words with /j/ and /g/ sounds. List: game, going, jacket, buggy, regular, gold, gym, danger, just, huge, page, and bagel.
Index Spelling Level B (Grade 2)
Click this link to see an index of all of the units for second grade spelling.