1st Grade Spelling Unit A-30
This is the final regular unit in the first grade spelling series. A-30 is the fifth sight word unit. List: put, goes, other, again, old, does, kind, and very.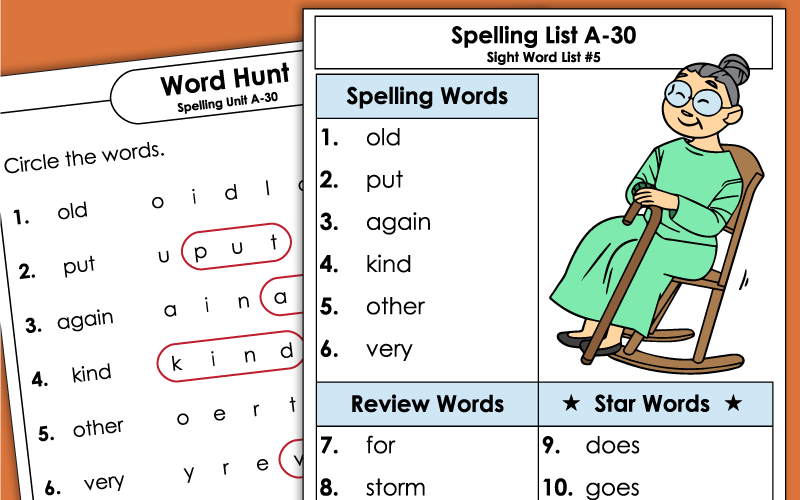 This unit has sight words. List includes the following words: old, again, kind, put, very, other, goes, and does.
1st Grade
In this printable spelling activity, students will answer questions about their weekly spelling words. An answer key is included with this spelling worksheet.
1st Grade
Children will complete the sentences by choosing the correct spelling word from the word bank provided.
1st Grade
In this printable activity, students will unscramble the words to form a complete sentence. They will write the sentence on the lines provided. An answer key is included.
1st Grade
Unscramble the sight words. For example, the letters hreot becomes other.
1st Grade
Cut out the word cards to arrange the words into sentences. Each worksheet has 25 word cards which includes 10 spelling words.
1st Grade
Students neatly write or print each spelling word two times.
1st Grade
Look carefully within the 10 rows on mixed-up letters and you might see some hidden spelling words.
1st Grade
Spelling flashcards are a great learning tool for mastering spelling. Use this set of printable cards for your classroom needs.
1st Grade
This is the last wheel-o-words in the Level-A spelling series.
1st Grade
Print out this pirate-themed word slider so your students can have fun learning words from Spelling Unit
A-30 . (Color version available with the ALT button below.)
1st Grade
Use scissors to snip apart the words. Then arrange them in alphabetical order on the numbered grid. Then glue them down to the worksheet.
1st Grade
Write spelling words alphabetically, starting with the word again and ending with very
1st Grade
This test template has a picture of a sweet old lady in a rocking chair. Students write the words on the lines as their teacher reads them aloud.
1st Grade
Read these sentences aloud when you give the unit 30 spelling test.
1st Grade
Click here to see a complete set of word lists for our first grade spelling.
Second Grade Unit B-1
The words in this unit have the short-a vowel sound. There are 10 spelling words, plus 3 sight words, plus 2 star words. Word list includes: bats, sat, has, grab, ran, flat, as, plan, last, can. Star words are grandma and grandpa.
Spelling Level A (Grade 1)
Looking for a different unit? This page contains links to each unit in the STW spelling series, for grade 1.