1st Grade Spelling List A-3
Here's the third spelling unit in the STW first grade spelling curriculum. All words have the short-i sound. List includes: six, is, him, if, did, hit. Star words for this week are will and this.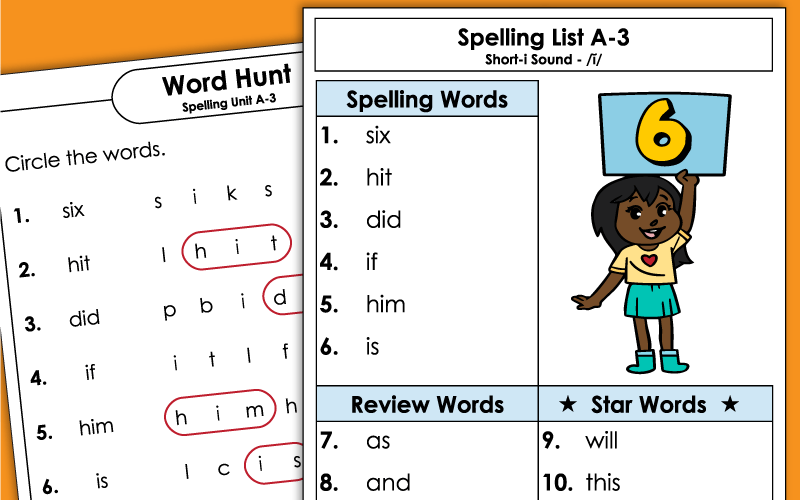 This list has 6 spelling words, two review words, and two star words. Short-e is the topic. List: six, did, hit, is, if, him. Star words: this, will. Review words (from A-1): as, and.
1st Grade
There are 7 simple questions on this page for students to answer.
1st Grade
Each sentence is missing a single word. Students must figure out the correct spelling words to complete the sentences.
1st Grade
Have your students unscramble the sentences in this activity. Each sentence contains one or more spelling words.
1st Grade
Can your kids unscramble these short-o spelling words?
1st Grade
Cut out the word cards to arrange the words into sentences. Each worksheet has 25 word cards which includes 10 spelling words.
1st Grade
Write each of your short-i spelling words two times on the primary-ruled lines.
1st Grade
Find ten spelling words in each row of horizontal letters.
1st Grade
This word wheel has all of the spelling words on it for this week. Students can play a game by spinning the wheel and asking a partner to spell the words that they see.
1st Grade
Here is a set of ten spelling flashcards to help your students learn their spelling words for Unit 3. Use these printable flashcards for classroom games and activities or at-home review.
1st Grade
Print, cut, and assemble this apple-shaped word slider which features the spelling words from Unit A-3. (Click the ALT button for a full color version.)
1st Grade
Use scissors to cut out the spelling words at the bottom of the page. Then use a glue stick to attach them to the boxes on top in alphabetical order.
1st Grade
List all ten of the A3 spelling words alphabetically on this page.
1st Grade
This spelling test template has 8 lines for spelling words, 2 lines for review, and three lines for star/bonus words. There's also a picture of a girl holding up the number six.
1st Grade
Read these sentences aloud as you administer this week's spelling test to your class.
1st Grade
This file contains all words included in units 1 through 30 of our first grade spelling curriculum.
1st Grade
Spelling Unit A-4
Spelling Unit A-4 has six short-o words: dog, not, top, box, jog, on.
Spelling: 1st Grade Full Index
This Level-A index page can connect you to any unit in the STW spelling curriculum.
Short-i Worksheets
This page has short-i phonics printables. There are build-a-word activities, card games, mini-books, and more.