1st Grade Spelling List A-4
This is the fourth unit in the STW spelling curriculum. On this list, students will explore words with the short-o vowel sound They'll learn to spell dog, not, top, box, on jog, and frog. There are also review words from unit A-2.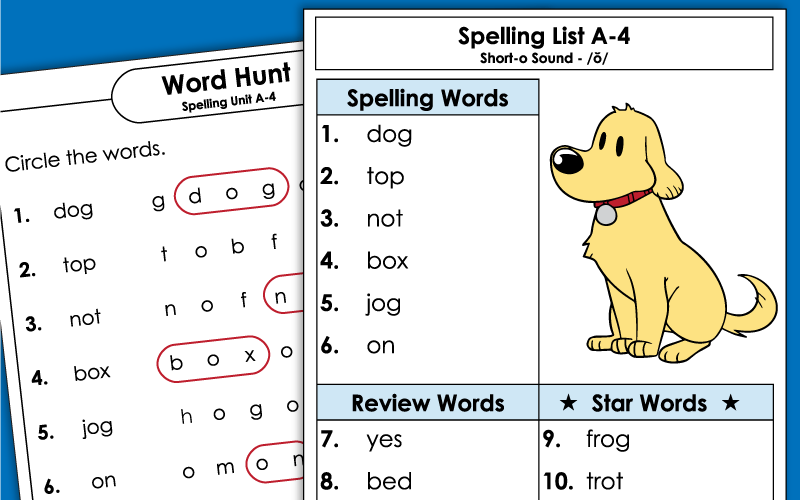 This unit, your class will focus on learning to spell short-o words, such as dog, top, not, on, box, frog, trot, and jog.
1st Grade
Students answer questions about their spelling words. Which two words have the short-e sound? Write the word that rhymes with FOX. An answer key is included.
1st Grade
In this exercise, students must determine which of the 6 main spelling words best completes each statement.
1st Grade
This activity directs students to unscramble the sentences. Each sentence has one or more spelling words in it.
1st Grade
The letters in each of the A-4 spelling words are all mixed up. Can your students unscramble them?
1st Grade
This worksheet has 25 word cards with the 10 spelling words on them that can be cut out and arranged into sentences.
1st Grade
Write each of the short-o spelling words on the primary-ruled lines. Use your neatest handwriting.
1st Grade
Challenge your students to find all ten of this week's spelling words in this basic horizontal word hunt.
1st Grade
Spin the wheel to see short-o spelling words. Then have a partner spell the words.
1st Grade
These are ten spelling flashcards for Unit 4. Use them for quiet study time, classroom games, or group activities.
1st Grade
Print out this file to put together a cute dog-shaped word slider containing the words from spelling Unit A-4. (Full color version available via the ALT button below.
1st Grade
With your scissors, cut out the small word cards. Affix them alphabetically to the table on the worksheet.
1st Grade
Students can try writing all of their words in order alphabetically, starting with bed and ending with yes.
1st Grade
This spelling test worksheet has a picture of a dog at the top. There are lines upon which students can write words as the teacher reads them aloud.
1st Grade
Use these spelling sentences to read aloud to your students during their spelling test.
1st Grade
Here's a complete list of all words in the first grade spelling series. Includes all 30 phonics units, plus 4 holiday units, as well as theme units.
1st Grade
Spelling Unit A-5
Level A (grade 1), unit 5 word and worksheets can be found on this page. This unit has short-u words, such as bus, pup, tub, mug, but, and fun.
1st Grade Spelling (Index)
From this page, you can jump over to any unit in the entire STW 1st grade spelling curriculum.
Short-o Worksheets
This page has dozens of worksheets for teaching students about the short-o vowel sound.