1st Grade Spelling Unit A-20
Since last week's spelling words has long-oo words, can you guess what we focus on this week? Short-oo words! Book, shook, wood, foot, took, good, crook, cook.
Below you'll find links to ABC order worksheets, unscramble puzzles, cloze activities, and more.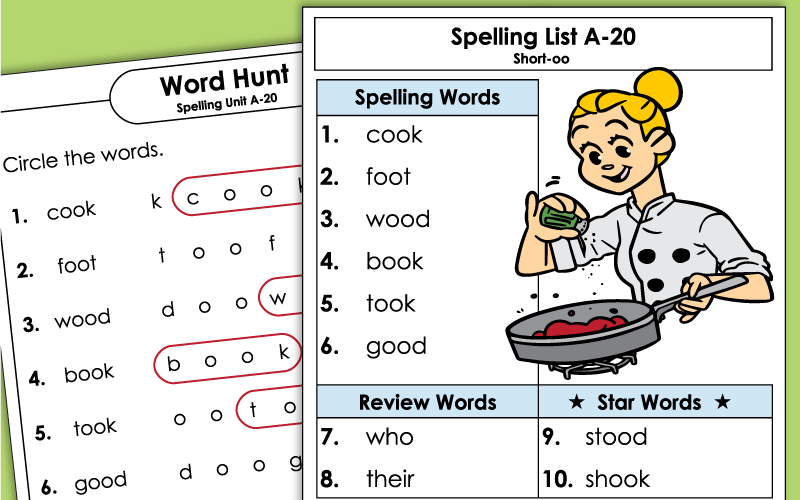 This week's words have the short-oo sound. This is the sound you hear in the words cook, good, wood, foot, took, book. Star words are shook and stood.
1st Grade
In this printable spelling worksheet, children will answer questions about their weekly spelling words.
1st Grade
Students will complete the sentences with a spelling word from the word bank provided in this printable spelling activity.
1st Grade
In this printable activity, students will unscramble the words to form a coherent sentence, writing the full sentence on the line provided.
1st Grade
Unscramble the letters to create words from the unit twenty list.
1st Grade
Arrange the word cards to make complete sentences. This file has 25 word cards, 10 of which are spelling words from this unit.
1st Grade
Neatly print each spelling word two times.
1st Grade
Search for the words cook, book, foot, wood, and good in this puzzle.
1st Grade
Use this word wheel to play a spelling quiz game with a classmate.
1st Grade
Use this set of ten flashcards for your students' study time and for classroom review games and activities. These printable spelling flashcards are excellent for learning this week's spelling words.
1st Grade
Print out this ladybug-shaped word slider so your students can have an additional fun way to practice reading Unit A-20 spelling words. (Color version available with the ALT button below.)
1st Grade
Cut along the dotted lines to make a set of spelling cards. Arrange the words in alphabetical order and then re-attach them to the page with glue.
1st Grade
Write each word from unit twenty in alphabetical order on the primary-ruled lines.
1st Grade
Download and print this PDF form for students to use when giving your spelling test.
1st Grade
On this PDF you'll find a set of ten sentences you can read aloud when giving your assessment.
1st Grade
An array of our units for grade 1 spelling.
Spelling Unit A-21
In this unit, your pupils will focus on learning words with the long-e sound, spelled ith the letters ee or ea. Tree, read, heat, please, , green, sheet, tea, bee. You'll find a couple alphabetical ordering worksheets, a "write twice" activity, spelling puzzles, and a cloze activity.
Spelling Level A (Grade 1)
Looking for a different unit? This page contains links to each unit in the STW spelling series, for grade 1.