Spanish Reading Passages (Basic)
Read the passages and answer the comprehension questions. Includes Spanish and English questions. The worksheets on this page were written for English speakers who are learning basic Spanish.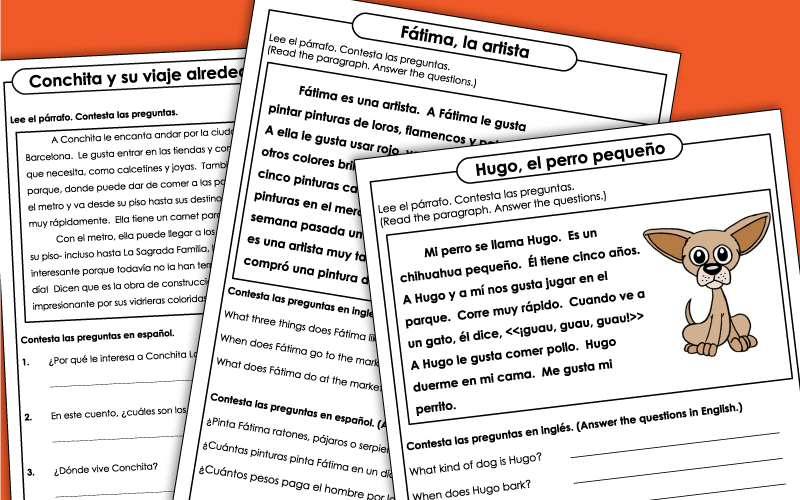 Read the short paragraph about Hugo, a small Chihuahua. Hugo likes to walk in the park and he barks at cats. Answer the reading comprehension questions that follow.


Logged in members can use the Super Teacher Worksheets filing cabinet to save their favorite worksheets.
Quickly access your most used files AND your custom generated worksheets!
Please login to your account or become a member and join our community today to utilize this helpful feature.

Read the short paragraph about José, a Mexican boy who loves soccer and playing the guitar.
Read the passage about Fátima, a girl who paints pictures of colorful birds. She sells her work at the local market on weekends. Answer the questions in English and Spanish.
This passage is about a girl named Salomé, who visits the beach with her family. She plays in the water, builds a sandcastle, and runs on the beach.
It's Aaron's eleventh birthday and his family is throwing a surprise party. There will be cake, balloons, and a piñata.
In this short passage, the narrator's aunt just had a baby named Leonardo. The new baby is showered with gifts.
Nick is a pilot of a large passenger jet. Read the story to find out what he likes and dislikes about his job.
Cristóbal and Bianca spend the morning preparing breakfast with grandma. Will they enjoy the secret ingredient in her pancakes?
Juan Carlos loves to ride on his horse, Athena. He takes Athena to town, where he shops at the farmer's market. He buys food for himself, and a special treat for Athena.
This passage is about a zookeeper named Alessandra. She washes the elephants, cleans the zebra pen, and feeds the monkeys.
In this story, Diego and Daniela are scuba diving in the ocean. They see a giant sea turtle, a clownfish, and a seahorse.
In Spain, soccer is a well loved sport. Read this passage to find out interesting information about Barcelona's soccer team, FC Barcelona.
In this story, a girl named Conchita takes the subway to visit a famous church in Barcelona, Spain.
This informative passage is about the famous Spanish artist, Pablo Picasso. Students will learn about his life, creative influences, and his art.
In this passage students will learn about how the Spanish speaking world celebrates Valentine's Day.
In this passage students learn about The Day of the Dead. They will find out the meaning of this holiday and how it is celebrated. Short answer questions follow the passage.
This is a great way for students to learn about Christmas traditions throughout Spanish speaking world. Find out when they celebrate, what they eat, and about their gift giving celebrations.
Spanish Vocabulary (Basic)
Print Spanish flashcards with pictures and words, as well as picture-vocabulary worksheets.