Sight Words - Unit 29 has over a dozen printable worksheets, including fun learning centers, word wheels, trace-and-print worksheets, and more! The words in this unit are: after, as, nine, and under. The noun is time.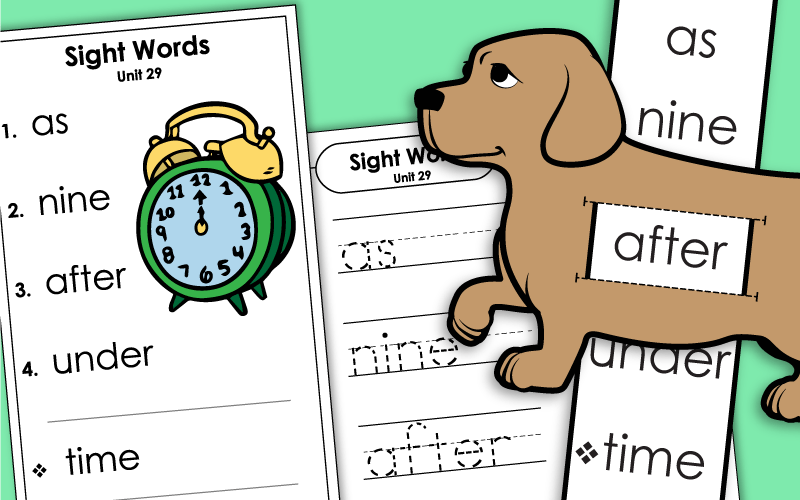 Print this dog-shaped word slider for your students to practice Unit 29 sight words. For best results, print on card stock paper. (Color version available - press the ALT button.)
Pre-K through 1st Grade
Practicing reading Unit 29 sight words from these printable flashcards is an activity all your students will love.
Pre-K through 1st Grade
Spin this word wheel to practice Unit 29's sight words. Print, cut, and assemble. (Use card stock paper for best results.)
Pre-K through 1st Grade
Cut out these words to use on your word wall or pocket chart in your classroom to allow students to see their sight words during class.
Pre-K through 1st Grade
See if your students can earn a full 15 points by testing their ability to read Unit 29 sight words.
Pre-K through 1st Grade
Use this assessment tool to see how well your students can identify the sight words from Unit 29 as you read them to the class.
Pre-K through 1st Grade
Ask your students to read all of the words on this list to a parent or friend. This printable file contains all 150 words in this high-frequency sight word series.
Pre-K through 1st Grade
STW Sight Words: Unit 30
Next week's unit has the words: give, ten, first, bed, and because.
Sight Words Units (Full List)
This page will link you to any one of the 30 STW Sight Word units.