Unit 27's list includes the following words: put, some, their, and let. The noun for this unit is hat. There are over a dozen printable practice activities to choose from, as well as end-of-the-week assessments.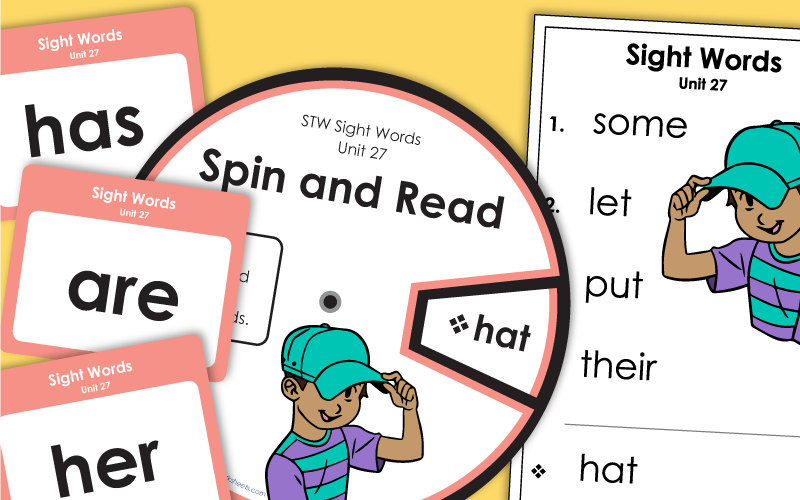 Use this cute pig-shaped word slider to practice Unit 27's words. (If you prefer a color version of this file, click on the alt button below.)
Pre-K through 1st Grade
Here are the flashcards to go along with the sight words for Unit 27. (Here's a fun idea: have students build a practice deck by adding new flashcards each week.)
Pre-K through 1st Grade
Cut and assemble this "Spin and Read" word wheel. Have your students spin the wheel and read the sight words that they see.
Pre-K through 1st Grade
These word strips from Unit 27 will fit perfectly in your classroom pocket chart. Or, add them to your class word wall.
Pre-K through 1st Grade
Have students read a list of Unit twenty-seven's words. Track their progress on these assessment score sheets.
Pre-K through 1st Grade
Print this test and hand out to your class. Read aloud the sight words from the list and have your students circle the words they hear.
Pre-K through 1st Grade
This file shows all of the words and noun pictures in the STW sight word series.
Pre-K through 1st Grade
STW Sight Words: Unit 28
Here is the 28th unit in our sight word series. This unit contains a word list to take home, worksheets, tests, a word wheel, and more!
Sight Words Units (Full List)
This page will link you to all 30 Super Teacher Worksheets sight word units in this series.