This page contains of a collection of printable phonics worksheets to help teach students about the sk- consonant blend. Words in this set include: skateboard, skirt, sky, skeleton, and skunk.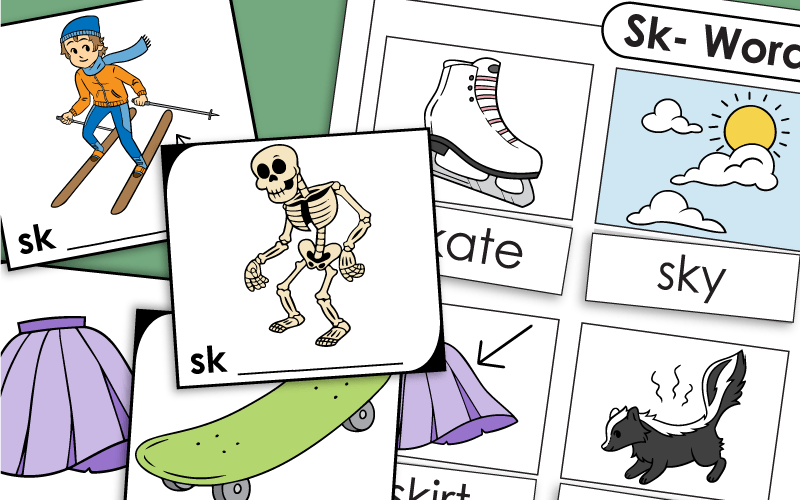 This printable activity contains 14 cards (7 words and 7 pictures) for students to use in various ways featuring words with the SK consonant blend.
1st Grade
This activity has twenty-five word cards to be cut apart and rearranged to form sentences. Try to use at least one SK word in each sentence.
1st Grade
Students can use letter stampers to form each SK word in the space provided on this printable phonics worksheet.
1st Grade
This file has eleven cut-apart flashcards featuring SK words such as: skim, skip, skill, skate, and sky.
1st Grade
Print the ship word slider on card stock paper and cut out all the items. Cut the two dotted lines on the ship and then weave the word strip through the slits to reveal different SK words.
1st Grade
Print the phonics wheel on card stock paper and cut along the dotted line. Attach the front to the back with a brass paper fastener and spin the wheel to view the words.
1st Grade
Word Family Units
This page has over 50 word family units to work from. They come each complete with printable worksheets, games, word wheels, flashcards, and other activities.
Phonics Index of Worksheets
This link contains a full listing of all our phonics worksheets. You will find sight word units, dipthongs, blends, word patterns, word family units and more.