Multiplication Worksheets (3-Digits by 1-Digit)
This printable worksheets and activities on this page feature 3-digit times 1-digit multiplication problems. Download task cards, a Scoot! game, word problem practice pages, and math riddle worksheets. Most files are aligned with the Common Core standards.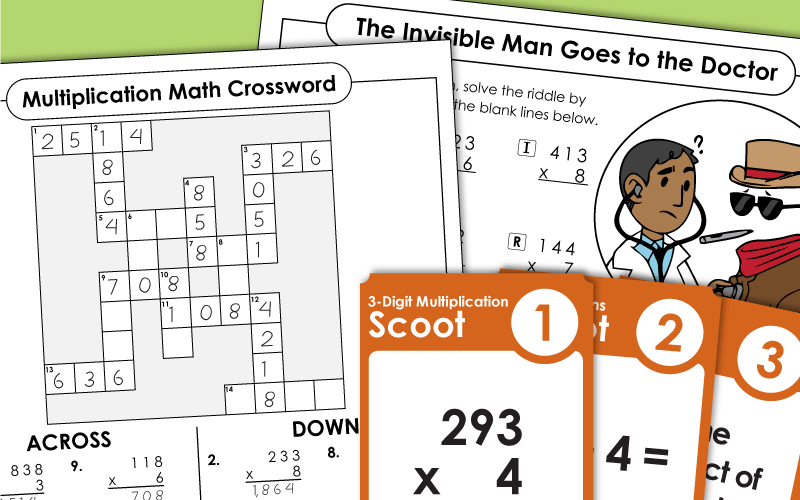 Multiplication Worksheet Generator
Create your own multiplication worksheets! You choose the number of digits in the factors. Also tell if you would like to include money or word problems.
When students play this game, they will solve 3-digit by 1-digit multiplication problems on task cards. A task card is placed on each student desk. Each time the teacher says Scoot!, students move to a different desk, and solve another math problem.
3rd through 6th Grades
Use the digits to complete the multiplication problem. Includes 12 task cards. This activity can be used as a learning center, or game for small groups of students.
3rd through 6th Grades
Here's a set of 30 task cards that you can use for classroom games, study sessions, or learning centers.
3rd and 4th Grades
Place value patterns in multiplication; Learn to use mental math to multiply large numbers that end in zero (example: 400 x 6)
3rd through 5th Grades
Decode the secret mystery numbers, then find the products.
3rd through 5th Grades
More Multi-Digit Multiplication
Browse our incredible selection of multi-digit multiplication worksheets.