This page has printable resources for your science units on Light and Sound.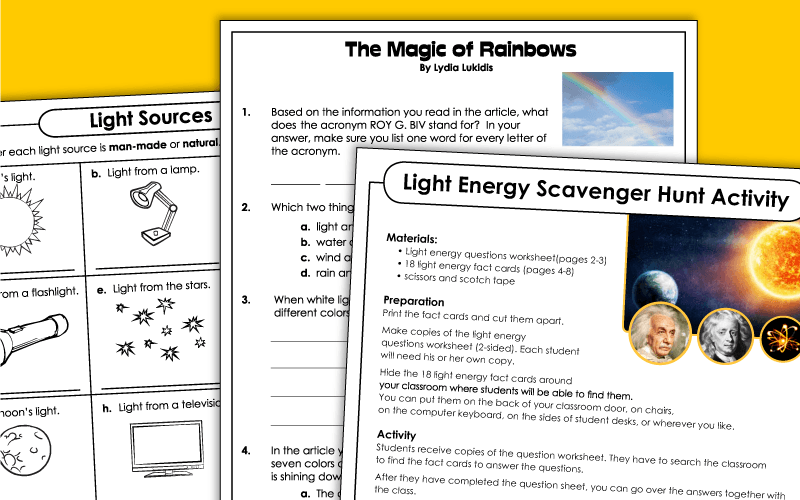 Students can search the classroom for hidden fact cards. Each card has an interesting fact about light energy. Use the cards to answer questions on the question sheet.
3rd through 6th Grades
Learn how a rainbow forms in the sky. Basic introduction to the spectrum of light and light concepts. Reading comprehension questions, vocabulary words, and a writing prompt are included.
3rd through 5th Grades
Read each scenario. Tell whether each object in the situation is transparent, translucent, or opaque.
3rd through 5th Grades
Tell whether each light source is man-made or natural. Sources of light shown include the sun, lamp, candle, television, cell phone, stars, lightning bolt, flashlight, and a firefly.
3rd through 5th Grades
Answer four short-answer questions about light. Covers transparent, translucent, and opaque substances, as well as rainbow formation, refraction, and reflection.
3rd through 5th Grades
In this classroom scavenger hunt activity, students will look around the classroom for interesting facts related to sound energy.
3rd through 6th Grades
Science Activities
This is an index page that includes a variety of science topics, such as food chains, animals, plants, electricity, matter, simple machines, cells, human body, life cycles, and more.
Electricity
Print worksheets and activities for teaching science lessons on current and static electricity.