Printable worksheets with Fairy Tale themes. Includes writing prompts, graphic organizers, fairy tale-themed math worksheets, and more.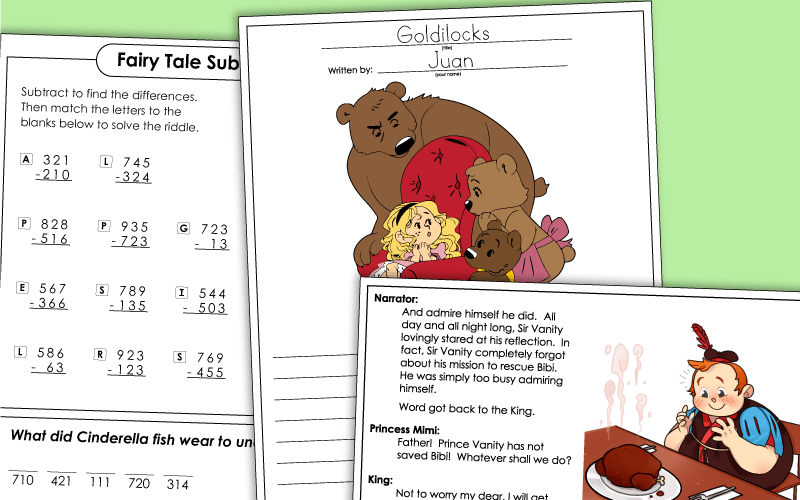 Cut apart the word cards and arrange them to make different sentences. Write each sentence on the primary-ruled pages provided. Words include: Cinderella, godmother, fairy, coach, prince, glass, and slipper.
Kindergarten to 2nd Grade
Cut out the word cards. Arrange them on the table to make sentences. Write as many sentences as you can using the words given. Words include: Jack, beanstalk, cow, grew, grow, night, and climb.
Kindergarten and 1st Grade
Build as many sentences as you can with these "3 Little Pigs" word cards. This activity works well as a learning center. Words include: house, wolf, pig, build, built, hay, and bricks.
Kindergarten to 2nd Grade
How many sentences can your students build with these word cards? Words include: Rapunzel, prince, tower, climb, climbed, hair, and long.
Kindergarten to 2nd Grade
Build sentences related to Golidlocks and the Three Bears. Words include: Goldilocks, bear, sat, chair, smallest, biggest, slept, and bed.
Kindergarten to 2nd Grade
Cinderella had a Fairy Godmother who used magic to create a beautiful dress and glass slippers for her. Imagine that you just met your magical fairy godmother. What types of things does she do?

2nd through 4th Grades
A picture shows Goldilocks in a soft chair, surrounded by the three bears. Students write a story to explain what's going on. Tell what the characters are thinking or saying.
2nd through 4th Grades
Here's a picture of the three little pigs, cowering in fear. Students write a brief story to tell what's happening in the picture.
2nd through 4th Grades
Here's a short-i phonics poem about a pig and a prince who dance a jig, then sit in the sun while eating figs. Page two has phonics questions.
1st Grade
In this short reading comprehension passage, Liz and Beth pretend to be princesses in a castle. When they hear a dragon coming towards their castle, they need to prepare for battle. This story has reading comprehension questions on page two.
2nd and 3rd Grades
Princess Mimi seeks a knight to rescue her little doggie. This is a readers' theater script for intermediate-level readers.
3rd and 4th Grades
Choose a fairy tale, and record fairy tale elements on this castle-themed graphic organizer. Boxes include: good characters, evil characters, magic, enchanted characters, royalty, poverty, and number patterns.
2nd through 4th Grades
Choose a fairy tale a complete the research report on it. This file has seven pages of simple questions and graphic organizers for students to answer about their story.
3rd and 4th Grades
This table has 4 fairy tale elements on the top axis: good characters, bad characters, magic, and numbers. On the side axis, it has 6 fairy tales. Students try to fill in all of the boxes.
2nd through 4th Grades
Solve the basic addition problems. Then color the mystery picture according to the color key at the bottom. The finished picture is a castle.
1st and 2nd Grades
Subtract to find the difference for each basic fact shown. Then color according to the key at the bottom to reveal a beautiful castle with flags.
1st and 2nd Grades
What did Cinderella Fish wear when she went to the underwater ball? To find out, students will solve 3-digit subtraction problems (no regrouping). Then they'll match the letters next to the problems with the numbers in the riddle.
2nd Grade
Your students will enjoy finding all of the words in this fairy tale-themed word search puzzle. Some of the words included are: witch, prince, magic, giant, fairy, castle, and beanstalk.
2nd through 6th Grades
Reading Comprehension
Download and print reading comprehension passages for any grade level between first and fifth.