This page has a printable Chinese Zodiac wheel, Chinese New Year worksheets, and games!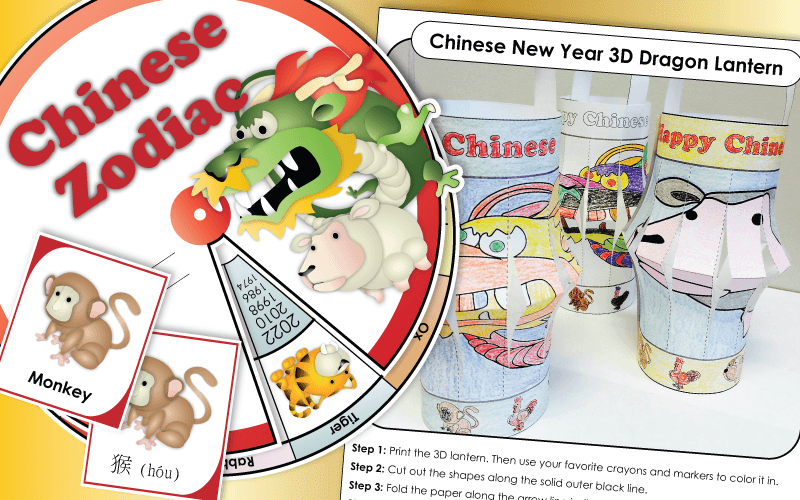 Make a Chinese Zodiac calendar wheel. Cut out the wheels and attach them together with a paper fastener.


Logged in members can use the Super Teacher Worksheets filing cabinet to save their favorite worksheets.
Quickly access your most used files AND your custom generated worksheets!
Please login to your account or become a member and join our community today to utilize this helpful feature.

Use the picture of the zodiac wheel to answer each question.
Cut, color, and hang this Chinese New Year lantern. It has Chinese symbols that read, "Happy New Year."
Color, fold, cut, and glue to make a 3D model of a Chinese lantern. This version has a dragon on it. While the dragon can be used any year, it is specifically associated with the year 2024.
On Chinese New Year, people give children money in lucky money envelopes. Cut, fold, and color to make your own Chinese New Year envelope. This envelope has a picture of a dragon, and the words "Good Fortune!"
Children can color, cut, and fold this Chinese dragon cootie catcher! A full color version of this activity is also available.
Cut out and color this fun Chinese New Year dragon mask. Then punch out the holes and attach a string so it can be worn.
Celebrate Chinese New Year by cutting out, coloring, and putting together this fun hat. We recommend printing this file out on card stock.
Pre-K through 2nd Grade
Follow directions to complete the blank map of China. Write the names of cities and bodies of water.
This map of China includes the names of cities, rivers, and oceans.
This file has a blank outline map of China without bordering countries or oceans.
Play an animal memory-match card game. Match the English animals words with the Chinese animal words.
Find the sum for each addition fact. Then color according to the key. The mystery picture is a colorful dragon.
1st through 3rd Grades
Find the sums and color the shapes accordingly to reveal a picture of two lanterns.
1st through 3rd Grades
Find the difference for each subtraction fact. Then color according to the key to reveal a colorful Chinese New Year picture.
1st and 2nd Grades
Find the product for each multiplication fact. Then color according to the key to reveal a picture of a dragon.
2nd and 3rd Grades
Solve the multiplication problems and then use the key at the bottom of the page to color the picture of the Chinese New Year lanterns.
2nd and 3rd Grades
Find the quotient for each division fact. Then color the picture according to the key to reveal a cool dragon.
2nd through 4th Grades
Solve the division problems and color to reveal a picture of a pair of lanterns.
2nd through 4th Grades
Valentine's Day
Print Valentine's day cards, crafts, and math worksheets.
Holiday Worksheets
Browse our huge collection of worksheets for all holidays, including St. Patrick's Day, Martin Luther King Jr. Day, Easter, Valentine's Day, Earth Day, and more.