Literature Unit: Sarah, Plain and Tall
This page has a printable literature unit to use with the short novel, Sarah Plain and Tall by Patricia MacLachlan. It includes reading comprehension worksheets, literature circle printables, writing prompts, and puzzles.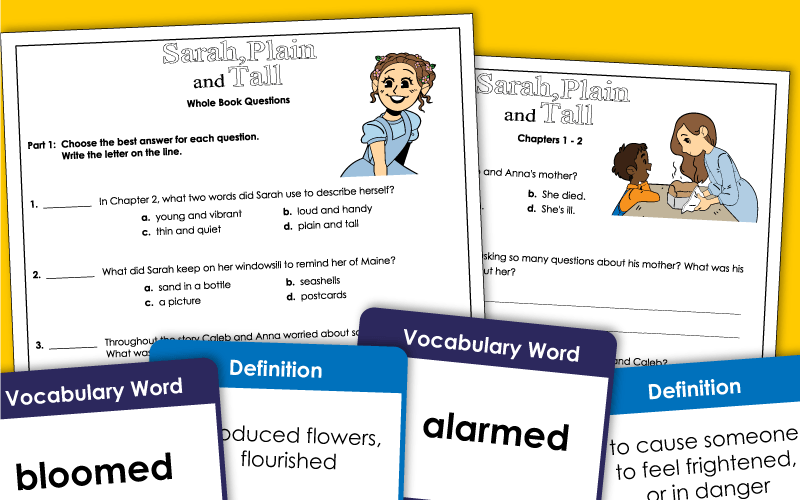 Test your understanding of the text by completing this 15 question activitiy that asks assesses your knowledge about the entire book.
4th and 5th Grades
Throughout the book there are many comparisons of life on the prairie to life in Maine. Use this graphic organizer to compare and contrast the two environments.
4th and 5th Grades
This PDF has four SP&T bookmarks that you can give to students to use while reading the story. Print or copy this file on heavy card stock.
This is the cover page to the literature circle packet. It includes pictures, and a space to list all students in the group.
4th and 5th Grades
The illustrator draws a picture of a scene from the story. Other memebers of the group discuss the drawing.
4th and 5th Grades
Write a summary of the assigned chatpters. Real it to your group, then discuss
4th and 5th Grades
The question leader writes and discussion questions for the assigned chapters. He or she then leads the discussion group.
4th and 5th Grades
The word wizards finds challenging vocabulary words from the assigned chapters. Then he or she researches the definitions of the words.
4th and 5th Grades
Students make connections between events in real life and the story.
4th and 5th Grades
More Chapter Book
Literacy Units
We have literacy units for dozens of titles, including Bunnicula, Tales of a Fourth Grade Nothing, Stone Fox, Magic Tree House, Frindle, The Boxcar Children, and many more.