These worksheets can be used with Christmas in Camelot, Mary Pope Osborne's 29th Magic Tree House book.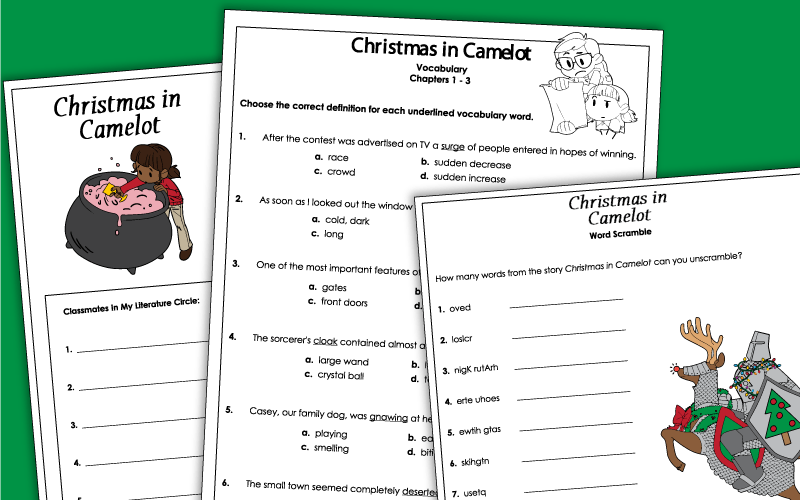 Test your knowledge of the story with this whole book activity. Questions include a series of multiple choice, matching, and short answer.
Tell which character is speaking for each quote. Students will choose from a word box with characters names.
How many words from the story can you unscramble? Try you best to figure out all 12.
20 words from the story are hidden within the puzzle. Search up, down, horizontal, and diagonal looking for each word.
After they read Christmas in Camelot, try this fun scavenger hunt game with your students.
1st through 3rd Grades
Write several open-ended discussion questions about the assigned chapters.
Choose several tough words from the reading and use a dictionary to define each one.
Draw a detailed picture of one scene from the reading assignment
Write a short summary of the assigned chapters.
Make connections between events from the story and real-life.
Here's a cover page for your Christmas in Camelot literature circle packet.
More Chapter Books
We have worksheets for many chapter book titles, including Bunnicula, Stone Fox, Tales of a 4th Grade Nothing, Charlotte's Web, and more!
Magic Tree House #1: Dinosaurs Before Dark
This page contains a collection of worksheets that you can use with the first Magic Tree House book.
Christmas Worksheets
STW has a huge collection of Christmas worksheets, projects, and activities. Download poems, early literacy activities, craft projects, puzzles, and holiday math worksheets.