This page contains printables that can be used for a literature study unit on the book Holes, by Louis Sachar. Download and print reading comprehension questions, vocabulary activities, bookmarks, and puzzles to use with the book.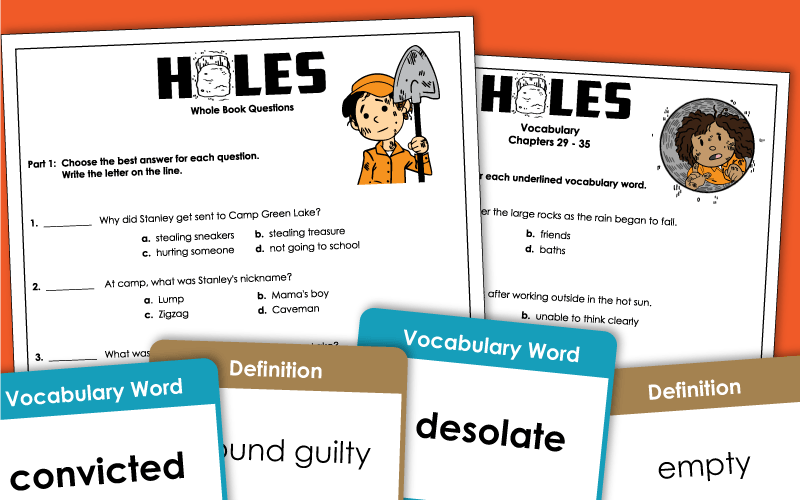 Students will recall events from the story to answer a series of multiple choice, short answer, and matching questions.
Tell which character is speaking for each quotation from the book.
Can you find the words from the story hidden in the puzzle? Words include Stanley, treasure, desert, lizard, and sneakers.
In this activity students will identify cause and effect by matching the cause to the correct effect.
This printable can be used as a cover page for your students' literature circle packets.
The illustrator is in charge of drawing a scene from the designated chapters. The other members of the reading group will look at the picture and describe what is happening.
The question leader writes open-ended questions to discuss with the reading group.
The real life connector tells how certain parts of the story are similar to events that have happened in their life.
The summarizer writes a short summary of their assigned chapters.
The word wizard finds challenging words from the text and defines them.
More Chapter Books
We have worksheets to go along with dozens of different chapter book titles, including The Giver, Phantom Tollbooth, Mr. Popper's Penguins, Charlotte's Web and many, many more.
Because of Winn-Dixie
Use this Because of Winn-Dixie unit with your class. This page has reading comprehension questions, reading activities, vocabulary worksheets, and a whole book test.