This page has worksheets and activities to use with Patrick Skene Catling's novel, The Chocolate Touch. This page has reading comprehension questions, vocabulary worksheets, puzzles, and vocabulary cards.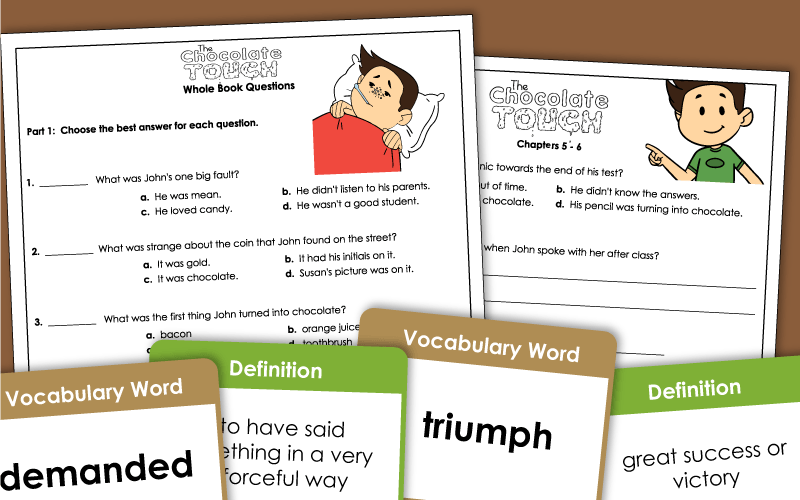 Test your knowledge of The Chocolate Touch with these whole book questions. This worksheet has a mix of multiple choice, short answer, and matching questions.
Can you find the words hidden in this puzzle? Some of the words include chocolate, candy, John, toothpaste, Mrs. Midas, and pencil.
This can be used as a cover page for your literature circle packet.
The question leader writes open-ended questions for the assigned chapters.
The RLC's job is to make connections between events in the novel and things that happen in real life.
The summarizer writes a brief overview of what they've read.
The word wizard's job is to find three unique or challenging words from the assigned reading and define them.
The illustrator draws a scene from the assigned chapters and shares the picture with the group.
More Chapter Book Titles
Download worksheets to use with Charlotte's Web, Stone Fox, Frindle, Junie B. Jones, The Magic Tree House, and more!
Tales of a Fourth Grade Nothing
This page has a collection of worksheets and activities to use with Judy Blume's Tales of a Fourth Grade Nothing.