The Candy Corn Contest: Literacy Unit
Below you'll find printable literacy unit worksheets to use with the book, The Candy Corn Contest by Patricia Reilly Giff. This is one of over 20 books in her Polk Street School series.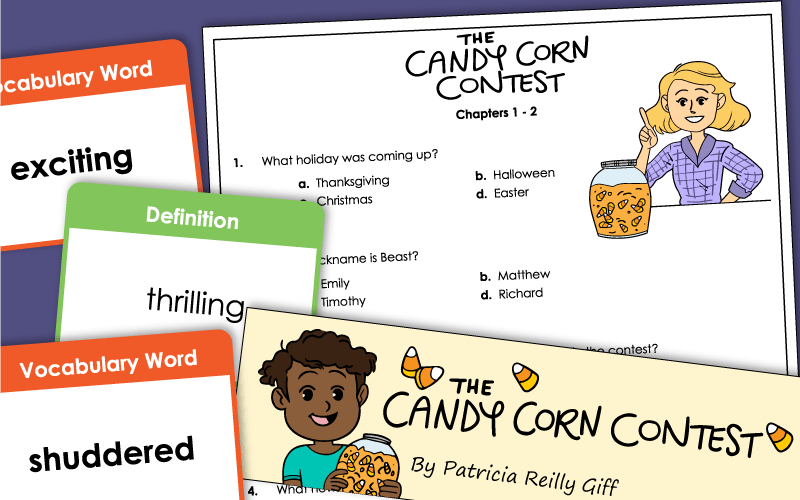 Test your understanding of the book by answering these final questions. Questions are grouped in sections of five and include multiple choice, true or false, and matching.
2nd and 3rd Grades
Find words from The Candy Corn Contest hidden in this puzzle. Words can be vertical, diagonal, or horizontal.
2nd and 3rd Grades
Here's a printable bookmark set that you can use with this novel.
The illustrator draws a scene from the assigned chapters. Members of the reading group look at the picture and describe what's going on in the picture.
2nd and 3rd Grades
The question leader writes open-ended questions to discuss with the reading group.
2nd and 3rd Grades
The summarizer writes a short summary of the assigned chapters.
2nd and 3rd Grades
The real life connector tells how certain parts of the story are similar to events that have happened in real life.
2nd and 3rd Grades
The word wizard finds challenging words from the text and defines them.
2nd and 3rd Grades
This page can be used as a cover sheet to your students' literature circle packets.
2nd and 3rd Grades
More Chapter Book Titles
Download printable literacy units for scored of chapter books, including Magic Tree House, Bunnicula, Stone Fox, Junie B. Jones, and many others.
Halloween Worksheets
Celebrate Halloween in your classroom with these fun printable games, crafts, and worksheets.
Autumn/Fall Worksheets
Bring some autumn fun into your classroom with these printable puzzles, games, math worksheets, and crafts.