Learn about the continent of Antarctica with these printable worksheets, puzzles, and reading comprehension passages.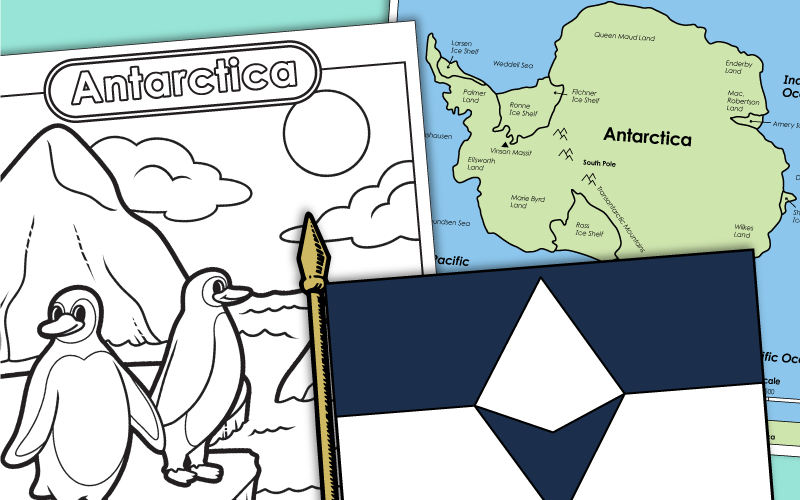 This full-color map of Antarctica has labels for key ice shelves, bodies of water, and other locations around Antarctica. A black-and-white version of this map is available by clicking the ALT button below.


Logged in members can use the Super Teacher Worksheets filing cabinet to save their favorite worksheets.
Quickly access your most used files AND your custom generated worksheets!
Please login to your account or become a member and join our community today to utilize this helpful feature.

This labeled map of Antarctica shows the Antarctic Circle, along with the major ice shelves, the International Dateline, and the Prime Meridian.
This is a blank version of our Antarctic Circle map. Students can fill in the labels themselves and color the map.
This article tells about two types of penguins, including the emperor penguin of Antarctica! After reading the article, students will answer reading comprehension questions, complete a vocabulary activity, and follow a writing prompt.
5th Grade
You can use this black-and-white version of the Antarctica flag as a coloring page to supplement your lessons on the continent.
Here is a full-color version of our printout of the continent of Antarctica's flag.
Have your students color in this image of two penguins standing on the ice in Antarctica.
Kindergarten to 3rd Grade
This coloring page shows the ceremonial South Pole, located in Antarctica, along with some of the flags that stand there.
Kindergarten to 3rd Grade
This challenge has 5 daily clues plus one bonus clue to help students guess what the mystery thing is. One fun way to use this is to share a clue with the class every day during the week before you start your Antarctica unit as a fun way to reveal the topic to students.
4th through 6th Grades
Social Studies Worksheets
STW has thousands of worksheets for teaching students about geography and cultures around the world.