Blank and labeled maps, state facts, coloring activities,and other printables featuring the State of North Dakota can be found on this page.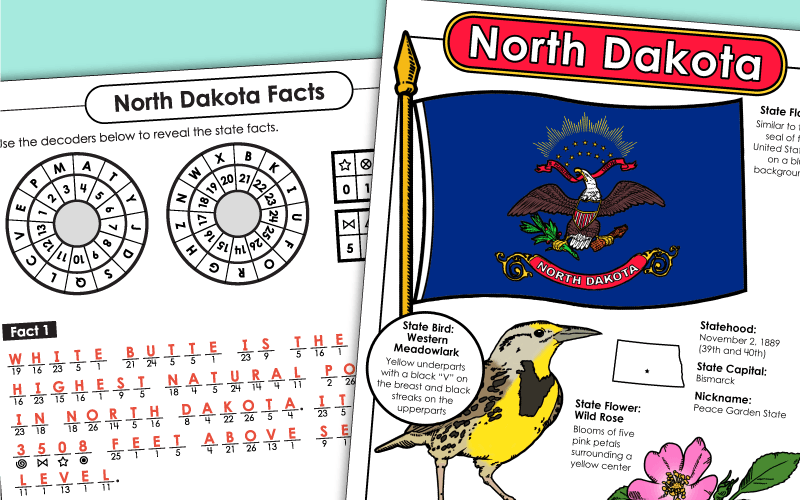 On this printable worksheet, students will color in the state flag, flower, and bird of North Dakota.
3rd through 5th Grades

Logged in members can use the Super Teacher Worksheets filing cabinet to save their favorite worksheets.
Quickly access your most used files AND your custom generated worksheets!
Please login to your account or become a member and join our community today to utilize this helpful feature.

Use this printable color map of North Dakota for your geography lessons. Labeled on the map are major cities, bodies of water, and neighboring states and Canada.
4th and 5th Grades
Students can label and color this blank map of North Dakota.
This North Dakota map has dots for cities of Bismarck, Fargo, Grand Forks, and Minot. Students write the names of the cities and bodies of water, then color the map according to the instructions.
This North Dakota map includes the labels for Grand Forks, Bismarck, Minot, and Fargo. This map also shows Devils Lake, Audubon Lake, Lake Sakakawea, Lake Oahe, Missouri River, and the Red River.
This blank map of North Dakota does not include bordering states.
Use this page to show students learning about their state what the flag of North Dakota looks like.
3rd through 5th Grades
The North Dakota flag features an eagle on a dark blue background. Have your students look up what other colors to use and then color in this page.
3rd through 5th Grades
Print out this page to show your students what the North Dakota state seal looks like.
3rd through 5th Grades
Encourage students to learn about North Dakota with this printout, which also makes for a great coloring page.
3rd through 5th Grades
This cryptogram puzzle will reveal the highest point, state bird, and state tree for the State of North Dakota.
4th and 5th Grades
Have your students solve this fun word search puzzle to find North Dakota-themed words such as: wild rose, roughrider state, Red River Valley, Peace Garden State, Minot, Lake Sakakawea, Grand Forks, Fargo, and Bismarck.
3rd through 6th Grades
Print out this word scramble for a fun social studies activity for the state of North Dakota. Find out the state tree, state bird, bordering river, and other state symbols.
3rd through 6th Grades
Today Miss Peabody is near the Canadian border, visiting the International Peace Gardens.
4th through 6th Grades
Using a map of the USA as an aid, figure out which state is shown and then write down the state capital, state flower, and bordering states on the lines below.
4th and 5th Grades
List of 50 States Pages
Print all kinds of maps and worksheets for any of the fifty states from this page.
50 States and Capitals
This page has printables for teaching about all 50 states and capitals.
Social Studies - Listing
Your class can learn about the American Revolution, notable people, and other topics with the printables found from this listing.