You will find a great selection of worksheets below filled with maps, fact worksheets, puzzles, and more, featuring information about the Southern State of Louisiana.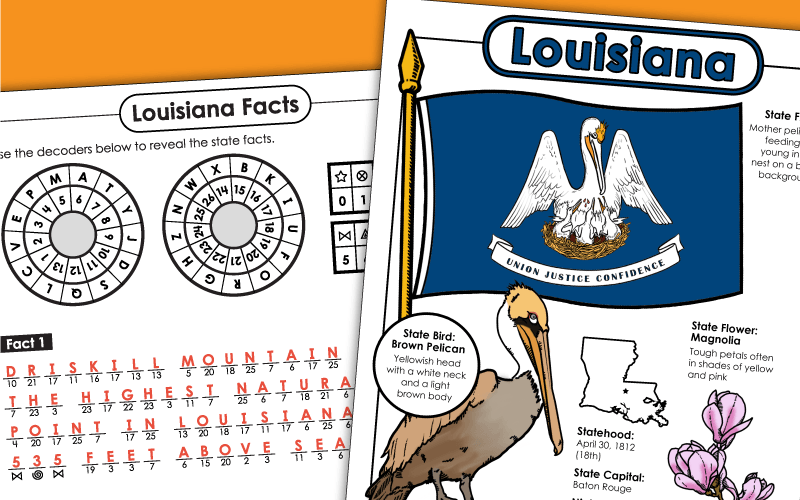 Color the LA flag, flower, and bird. The flag has a picture of a pelican feeding her young. The state flower is the magnolia.
3rd through 5th Grades

Logged in members can use the Super Teacher Worksheets filing cabinet to save their favorite worksheets.
Quickly access your most used files AND your custom generated worksheets!
Please login to your account or become a member and join our community today to utilize this helpful feature.

Identify the state capital and major cities of Louisiana with this printable color map. Also featured are large lakes, rivers, and neighboring states.
4th and 5th Grades
Have your students label and color this blank map of the state of Louisiana.
This Louisiana map has markers for cities of Baton Rouge, Lafayette, New Orleans, and Shreveport.
This Louisiana map includes labels for Baton Rouge Lafayette, New Orleans, Shreveport, the Gulf of Mexico, the Mississippi River, and Lake Pontchartrain.
This blank map of Louisiana does not include bordering states.
Show students what the Louisiana flag looks like with this full-color PDF.
3rd through 5th Grades
Have students color in this printable version of the Louisiana flag.
3rd through 5th Grades
Louisiana's seal includes the words "union," "justice," and "confidence." Use this printout to teach them about the seal and the meaning of those words in its context.
3rd through 5th Grades
You can use this black-and-white version of the seal for a coloring activity with your students.
3rd through 5th Grades
Use the decoders at the top of this worksheet to find the answer to the puzzle. The solution will reveal two facts about the State of Louisiana.
4th and 5th Grades
Find the following Louisiana-themed words in the puzzle: pelican state, New Orleans, Magnolia, Lake Pontchartrain, Gulf of Mexico, bayou state, and Atchafalaya Basin.
3rd through 6th Grades
Students will have fun in social studies class unscrambling these words to find different symbols and geographic points for the state of Louisiana.
3rd through 6th Grades
Penelope Peabody is enjoying the amusing costumes worn by people in the Mardi Gras parade.
4th through 6th Grades
Figure out which state is shown in this picture and then write down the state capital, state nickname, bordering states, and more.
4th and 5th Grades
Full List of 50 States
Easily find worksheets for any of the fifty US states within this index.
50 States and Capitals
This page has printable maps, games, puzzles, and other worksheets featuring US states and their capitals.
Social Studies - Complete List
Find worksheets to boost your social studies lesson from the variety found on this index.