4th Grade Spelling Unit D-30
This week's spelling unit features words with qu and squ sounds. List: squint, quarter, liquid, squirm, equator, bouquet, squash, quieter, masquerade, squeak, conquer, question, inquire, quail, quiver, squiggle, quarrel, squeeze, quotation, squirrel, squat, and aquarium.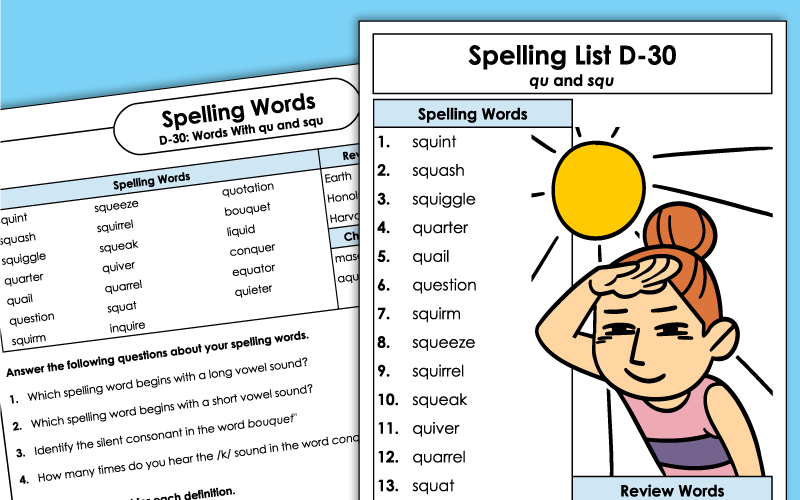 Here is the spelling list for unit D-30. This list contains words with qu and squ. The list includes: squint, quail, squirm, quotation, squiggle, squash, question, inquire, liquid, squirrel, equator, bouquet, conquer, squat, squeeze, quiver, squeak, quarter, quarrel, and quieter.
4th Grade
This worksheet contains questions about your spelling words. On this worksheet you will find phonics questions, unscramble the spelling word, vocabulary identification, and complete the sentences exercises.
4th Grade
Search carefully for spelling words and circle them. If they're misspelled, then write the correct spelling on the line.
4th Grade
Use the word bank on the second page to identify the correct word for each clue. Then write the words in the boxes on the crossword puzzle.
4th Grade
Unscramble the spelling words. For example: tunqis becomes squint.
4th Grade
On this page, students will practice writing each QU and SQU spelling word two times.
4th Grade
Challenge your class to find all of the words in the word find puzzle.
3rd Grade
Students can create their own word search puzzle. All they need to do is hide the words on the grid and then add random letters to the blank spots. A friend, classmate, or family member can solve the puzzle.
4th Grade
Students will type their spelling words into sentences using a word processor, such as GoogleDocs or Microsoft Word.
4th Grade
Download and print these spelling study cards for unit thirty.
4th Grade
Alphabetize each set of words shown.
4th Grade
Cut out all 25 spelling words, arrange them in alphabetical order, and glue them down onto the page.
4th Grade
Kids can write their spelling words on this page as their teacher reads them aloud.
4th Grade
Here is a list of sentences you can read aloud to your students during their spelling test.
4th Grade
Here are all spelling words in the 30 units of the STW spelling curriculum.
Fifth Grade Spelling Unit E-1
List E-1 has spelling 25 fifth grade spelling words, each with the short a or short e sound.
Full Grade 4 Spelling
This index page can connect you to any unit in the 4th grade spelling series.