4th Grade Spelling Unit D-29
Grade 4 spelling Unit are rhyming words. List contains: kangaroo, square, through, invite, footwear, retreat, delight, impolite, delete, beware, athlete, appetite, meteorite, avenue, review, cheap, activate, appreciate, sweep, creep, locate, and parakeet.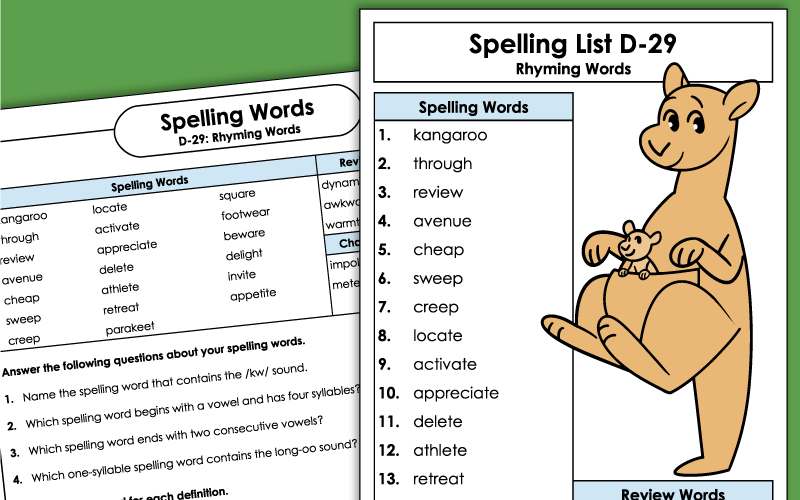 This week's spelling list consists of words that rhyme. This list includes: kangaroo, creep, delight, square, activate, delete, review, retreat, parakeet, appetite, cheap, avenue, footwear, through, beware, locate, athlete, invite, appreciate, and sweep.
4th Grade
Answer questions about this week's spelling words. This worksheet includes phonics questions, vocabulary identification, synonyms, and complete the sentence exercises. An answer key is included.
4th Grade
Proofread each sentence carefully and look for misspelled words.
4th Grade
Find the correct words to match the across and down clues and them write them into the crossword puzzle.
4th Grade
Unscramble the letters to make words.
4th Grade
On this page, students will write their spelling words on the lines provided.
4th Grade
Circle the spelling words hidden in the puzzle. Words are hidden vertically, diagonally, and horizontally.
4th Grade
Your pupils can make their own word hunt puzzle. Hide the words on the grid paper and have a friend complete the puzzle.
4th Grade
With this printable activity, students will type their spelling words into sentences.
4th Grade
On this file you'll find the printable flash cards for unit D-29.
4th Grade
Rewrite each set of five words alphabetically.
4th Grade
Write all spelling words (including challenge words and review words) alphabetically.
4th Grade
Cut out the word cards and glue them onto the page in alphabetical order. Start with the word activate and end with the word through.
4th Grade
Your class can write their test words on this page as you read them aloud.
4th Grade
Read these sentences out loud to your students as they take their weekly spelling test.
4th Grade
View the master word lists for all 4th grade units in the STW spelling series.
Spelling Unit D-30
This week's spelling unit D-30 are all words with qu and squ sounds. List: squint, quarter, liquid, squirm, equator, bouquet, squash, quieter, masquerade, squeak, conquer, question, inquire, quail, quiver, squiggle, quarrel, squeeze, quotation, squirrel, squat, and aquarium.
Full Spelling Index (4th)
Link back to the full spelling index. From this page you can jump to any unit in our 4th grade spelling series.