4th Grade Spelling Unit D-18
Spelling Unit D-18 are all words with prefixes. Spelling list: unhealthy, untangle, unstable, incorrect, distrust, regroup, impossible, impatient, dishonest, unlike, removed, mispronounce, unexpected, unknown, recharge, unequal, prepaid, unwrapped, unable, preview, misplace, and reappear.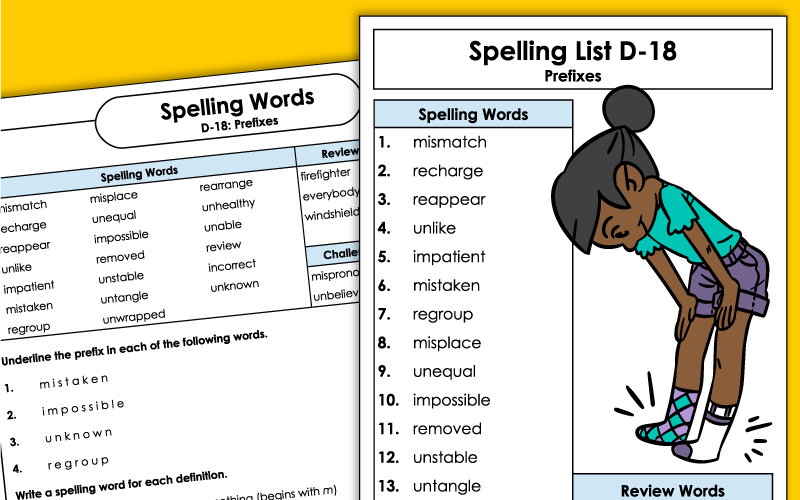 Prefixes are the theme for this week. Mismatch, unhealthy, unable, removed, untangle, unknown, unequal, reappear, recharge, misplace, incorrect, impatient, impossible, review, rearrange, unwrapped, unlike, mistaken, unstable, and regroup.
4th Grade
This worksheet contains questions for the week's spelling words. Included are phonics questions, vocabulary identification questions, and complete the sentence exercises.
4th Grade
In this printable spelling activity, students circle the spelling word in each sentence. If it is incorrectly spelled, they will write the correct spelling on the line provided.
4th Grade
Read the clues and insert all 25 spelling words in this crossword.
4th Grade
Have your students unscramble the mixed-up spelling words.
4th Grade
Using cursive or print handwriting, students write each spelling word two times.
4th Grade
Kids can make their own word-find puzzle and have a classmate solve it.
4th Grade
Can you find all of the hidden words in the puzzle?
4th Grade
Using a word processor, students will practice typing and spelling skills with this activity.
4th Grade
Here are some flashcards that you can cut apart. Students can use them to play a game. The first player draws a card at random and asks the second player to spell the word.
4th Grade
For this spelling activity, students are given groups of words to alphabetize. For example, "incorrect, highest, everybody, impatient, impossible" is rewritten as "everybody, highest, impatient, impossible, incorrect.
4th Grade
On this worksheet, students will write all of their spelling words alphabetically.
4th Grade
First use scissors to cut out the word unit eighteen cards. Then alphabetize them on the grid. After that, students attach them onto the page with their glue sticks.
4th Grade
On the spelling test, students listen carefully as their teacher reads spelling words aloud. They write words on the line as they hear them.
4th Grade
Here are sentences that you can read aloud to your students during their Unit D-18 spelling test.
4th Grade
Here are all spelling words in the 30 units of the STW spelling curriculum.
Spelling Unit D-19
This week's spelling unit consists of words that have suffixes. List: colorful, thoughtful, enjoyment, darkness, loneliness, introduction, agreement, spotless, breakable, lovable, adjustment, hopeless, predictable, peaceful, punishment, education, bravely, memorable, breathless, excitement, adaptable, and decoration.
Full Grade 4 Spelling
This index page can connect you to any unit in the 4th grade spelling series.
Prefix and Suffix Worksheets
Looking for more prefix and suffix practice? S.T.W. has lots of worksheets and activities that may help.