4th Grade Spelling Unit D-17
Unit D-17 spelling for fourth graders is made up of words with /ow/ and /oi/ sounds. Spelling list: scowled, fountain, tower, employ, noisy, annoying, frowning, allowance, around, joining, destroy, moisten, drowsy, boundary, cauliflower, crowded, avoid, thousand, chowder, poison, enjoyment, and royal.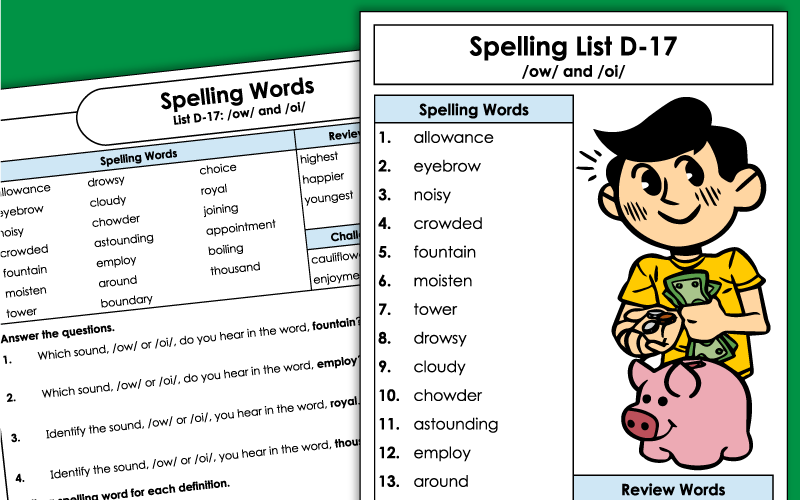 This list has /ow/ and /oi/ words, such as allowance, joining, boiling, astounding, cloudy, drowsy, appointment, royal, noisy, boundary, crowded, choice, employ, chowder, eyebrow, tower, thousand, fountain, and around.
4th Grade
In this printable spelling activity, students answer phonics questions about their spelling words, complete the sentences, identify the spelling word based on the given definition, and more.
4th Grade
Each of this week's spelling words is used in a sentence. Circle the spelling word and decide whether it is spelled correctly or incorrectly. If it is correct, write "Correct" on the line. If not, spell it correctly. Answer key included.
4th Grade
Can your students complete this spelling crossword? All spelling words, including challenge and review words, are in the puzzle.
4th Grade
Unscramble the letters in each unit seventeen spelling word.
4th Grade
Neatly print each word two times on the lines provided.
4th Grade
Create your own word find puzzle by hiding words on the grid.
4th Grade
Find the /oi/ and /ow/ words hidden in this puzzle.
4th Grade
Students will enjoy practicing their spelling and typing skills with this activity.
4th Grade
Looking for a fun spelling game? Print several sets these flashcards on card stock. Then break students into groups of two. Player one draws a card and asks player 2 to spell the word. Then students reverse roles.
4th Grade
For each group of spelling words, put the words in alphabetical order.
4th Grade
Alphabetize the words and glue them to the top of the page.
4th Grade
Write all spelling words (which includes challenge words and review words) alphabetically. Start with the word allowance and end with the word youngest.
4th Grade
Write spelling words on the blank lines as the teacher reads them aloud.
4th Grade
Read these twenty-five sentences out loud to your students for their spelling test this week.
4th Grade
View the master word lists for all 4th grade units in the STW spelling series.
Spelling Unit D-18
Spelling Unit D-18 are all words with prefixes. Spelling list: unhealthy, untangle, unstable, incorrect, distrust, regroup, impossible, impatient, dishonest, unlike, removed, mispronounce, unexpected, unknown, recharge, unequal, prepaid, unwrapped, unable, preview, misplace, and reappear.
Full Spelling Index (4th)
Link back to the full spelling index. From this page you can jump to any unit in our 4th grade spelling series.