2nd Grade Spelling Unit B-20
Your 2nd grade students will enjoy learning words with ow and ou in Unit B-20. Spelling list: how, down, round, now, shower, couch, brown, cows, hour, about, mouth, and house.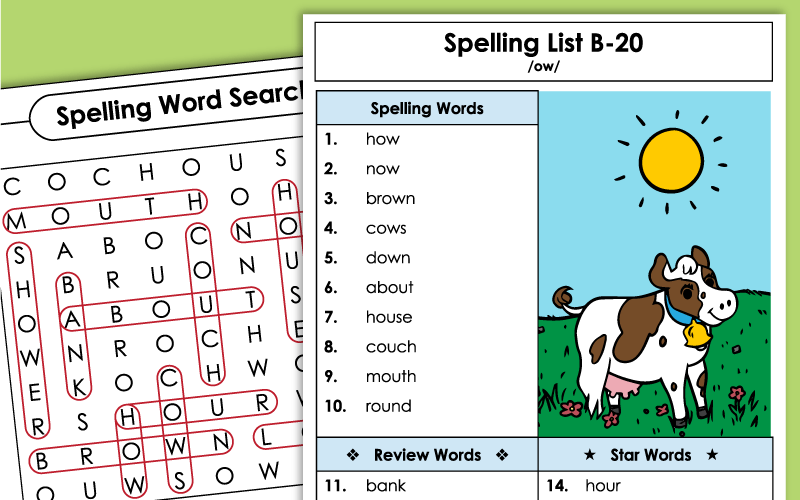 This week's list has /ow/ words, including: how, round, brown, cows, down, about, house, couch, now, and mouth. Star words are hour and shower.
2nd Grade
Students will complete each sentence with a spelling word from the bank provided. An answer key is included with this printable activity.
2nd Grade
In this printable activity, students will unscramble the words to form them into a sentence. For example, "the on Chase sat couch." becomes "Chase sat on the couch."
2nd Grade
The scrambled letters can be rearranged to make spelling words. Write each spelling word on the line.
2nd Grade
Write each /ow/ spelling word twice on the primary-ruled lines.
2nd Grade
Hunt for all of your spelling words (horizontally and vertically) in this puzzle.
2nd Grade
In this exercise, students will practice typing their spelling words on a word processor.
2nd Grade
Your students will ace the spelling test for Unit 20 with the help of these printable spelling flashcards. Use them for classroom games, group study, or individual review.
2nd Grade
After printing this file on thick card stock, use it to create a word wheel. Use it for spelling games, as a study tool, or for small group instruction.
2nd Grade
Print and cut out the ladybug-themed word slider containing the 15 spelling words from Unit B-20. (Use the ALT button below to find a full-color version.)
2nd Grade
On this worksheet, spelling words are broken up into clusters of two, three, and four. Students must write each word group in alphabetical order.
2nd Grade
Carefully cut apart the word cards and alphabetize them.
2nd Grade
Write your spelling words in alphabetical order on this worksheet.
2nd Grade
Pupils can write spelling words on this form as their instructor reads them aloud.
2nd Grade
Read these sentences for the unit twenty assessment.
2nd Grade
This file contains all words included in units 1 through 30 of our second grade spelling curriculum.
Spelling Unit B-21
2nd Grade Spelling Unit B-21 contains words that are contractions. List: can't, doesn't, we'll, I'll, wasn't, you'd, won't, you'll, we'd, we've, hasn't, and don't.
Spelling: 2nd Grade Full Index
This Level-B index page can connect you to any unit in the STW spelling curriculum.