1st Grade Spelling Unit A-29
Words in Spelling Unit A-29 for first grade consist of words that contain er, ir, and ur. List: fern, curl, herd, surf, bird, swirl, burst, and girl.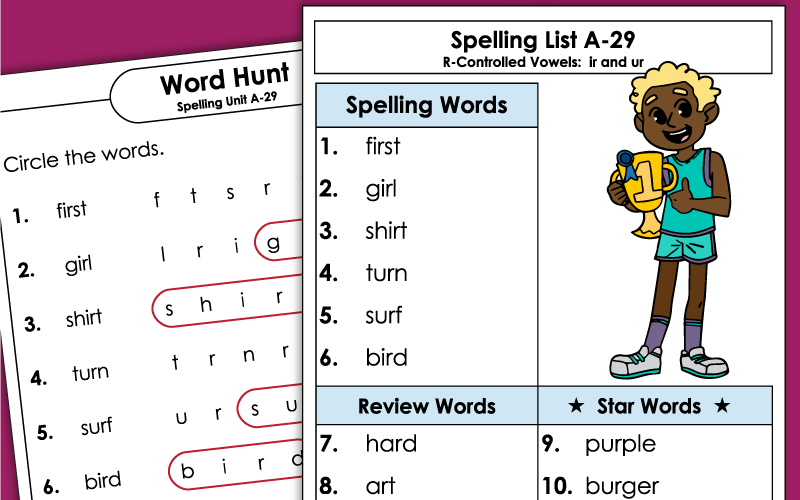 This list has words with ir and ur. New words on this list are: first, shirt, girl, surf, bird, and turn.
1st Grade
Students will answer questions about their spelling words in this printable spelling activity. An answer key is included.
1st Grade
In this printable spelling exercise, students will choose the spelling word that completes the sentence from the word bank provided.
1st Grade
In this printable activity, students will rearrange the words to form a complete sentence. An answer key is included.
1st Grade
Unscramble the letters to make spelling words. For example: sfrti becomes first.
1st Grade
Arrange the word cards to make complete sentences. This file has 25 word cards, 10 of which are spelling words from this unit.
1st Grade
Write each spelling word two times on the primary-ruled lines.
1st Grade
In this word search puzzle, students will search for words with r-controlled vowels, such as first, girl, turn, and surf.
1st Grade
This set of flashcards is great for students to be able to study their spelling words this week. Use them in multiple ways.
1st Grade
Have to tried Spin-and-Spell with your students yet? If not, you should try it now. You're near the end of the spelling series!
1st Grade
This is a useful printable tool to help students review their spelling words form Unit A-29. (ALT button below leads to a full color version.)
1st Grade
Cut out the word cards, arrange them alphabetically, and use a stick of glue to attach them to the worksheet.
1st Grade
Write all spelling words alphabetically on the lines. Begin with the word art and end with turn.
1st Grade
This test paper has a picture of a kid holding a trophy that says first. There are primary-ruled lines for words.
1st Grade
This file has some sentences you can read for the spelling assessment.
1st Grade
Collection of word lists for first grade spelling on one PDF link.
Spelling Unit A-30 (The last one!)
Unit A-30 has sight words. List: put, goes, other, again, old, does, kind, and very. It's the last regular list in the series. (But we have themed units and holiday units too!)
1st Grade Spelling (Full Index)
From here you can jump to any unit in the Grade 1 spelling curriculum.