1st Grade Spelling List A-19
The spelling list and worksheets on this page have words with the long-oo sound. Spoon, school, moon, zoo, noon, tooth, cool, and food.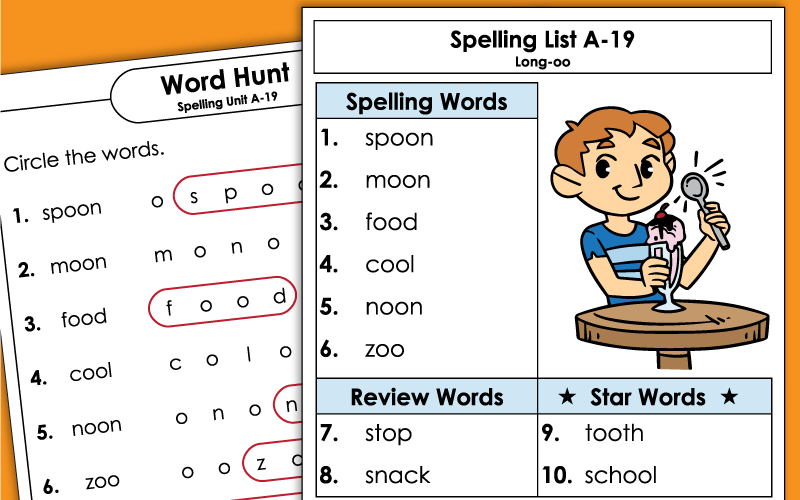 These words have the long-oo (or the long-u) vowel sound. Word list: spoon, moon, food, tooth, zoo, noon, and cool.
1st Grade
Students will answer questions about their weekly spelling words in this printable spelling exercise.
1st Grade
In this spelling worksheet, students will fill in the blanks with a spelling word from the word bank provided. An answer key is included.
1st Grade
In this printable spelling activity, students will rearrange the words to form a sentence and write the full sentence on the line provided.
1st Grade
Unscramble each long-oo spelling word.
1st Grade
Cut out the word cards. Arrange them on the table to make complete sentences. Includes 25 word cards, 10 of which are spelling words.
1st Grade
On the dotted primary lines, carefully print each word two times.
1st Grade
Circle your spelling words in this horizontal search puzzle.
1st Grade
Use the flashcards in this set for individual study time, group review time, or classroom games and activities.
1st Grade
Assemble the word wheel, then use it to review this week's spelling words.
1st Grade
Here is a great printable learning tool to help students study their spelling words form Unit A-19. (ALT button below leads to a full color version.)
1st Grade
The bottom half of this worksheet has cards for students to cut out with their scissors. Kids can alphabetize the cards and paste them onto the grid at the top of the page.
1st Grade
Alphabetize your spelling words and write them on the lines, starting with the word cool and ending with the word zoo.
1st Grade
Use this form to write words as your teacher reads them aloud.
1st Grade
Teachers can read these ten sentences aloud when administering the Friday spelling assessment.
1st Grade
Click this link to see our entire first grade spelling series.
Spelling Unit A-20
This week's unit focuses on short-oo words. Book, shook, wood, foot, took, good, crook, cook. Below you'll find links to ABC order worksheets, unscramble puzzles, cloze activities, and more.
1st Grade Spelling (Full Index)
From here you can jump to any unit in the Grade 1 spelling curriculum.