With the printable teaching resources on this page, students will work towards mastery of the following sight words: two, four, three, and one, with the noun, door. Begin the unit by sending home a word list and home review activity. Then you can choose a few of the many related activities to complete in class. On Friday, you can give one of the sight word assessments.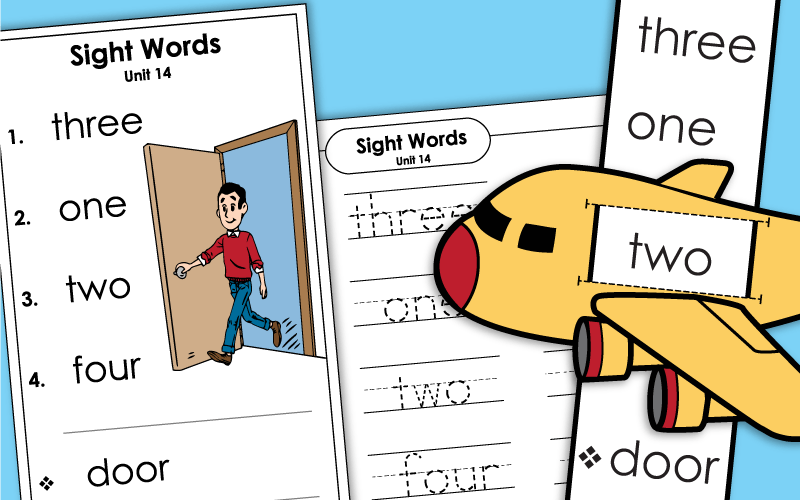 Color and cut out the airplane-shaped word slider and word strip. Weave the word strip through the airplane to practice this week's sight words. (For a color version of this printable, press the ALT button below.
Pre-K through 1st Grade
Practicing reading sight words from these printable flashcards is an activity all your students will love.
Pre-K through 1st Grade
Cut and assemble this "Spin and Read" word wheel. Kids can spin the wheel and read the words that they see. (Print this activity on card stock paper for best results.)
Pre-K through 1st Grade
Print and cut these strips of paper on the dotted lines. These word strips are designed to fit perfectly into a classroom pocket chart or word wall.
Pre-K through 1st Grade
Have students read a list of Unit fourteen's words. Track their progress on these assessment score sheets.
Pre-K through 1st Grade
You can use this assessment to quiz your students on their sight words from units 13 and 14. Students will read aloud all sight words from both units and read two full sentences.
Pre-K through 1st Grade
The teacher will read the sight words. Students will circle the correct words on their papers.
Pre-K through 1st Grade
If you review and practice all 150 words on this list with your class, your children will find learning to read fun and easy.
Pre-K through 1st Grade
STW Sight Words: Unit 15
Here is the fifteenth unit in our series. Students will learn to read and print the words: be, bee, if, stop, and just.
Sight Words Units (Full List)
Link to any of our 30 sight word units from this index page.