Native American History and Culture
This page has printable crafts and worksheets for teaching students about the history and culture of Native Americans. There are also reading comprehension passages to highlight the accomplishments of notable Native Americans in history.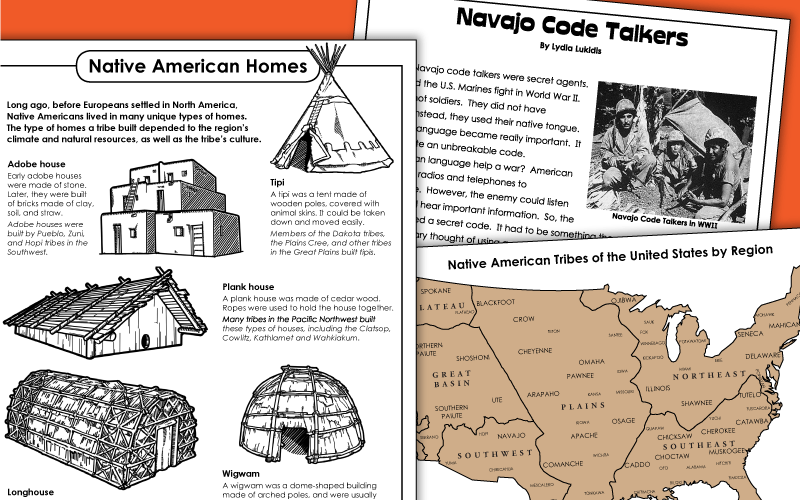 This is a short, illustrated page with information about different types of traditional Native American homes. This sheet includes a picture of a wigwam, a longhouse, a plank house, a tipi, and an adobe house.
3rd through 5th Grades
Make a 3D model of a Native American tipi. Color, cut, fold, and glue this printable pattern. This version has patterned designs on the sides for students to color.
Make your own tipi model. This craft is similar to the one above, except the side walls of the tipi are plain. Students draw their own designs.
This non-fiction article explains how Navajo secret agents helped the US Marines during World War II.
4th through 8th Grades
Learn the about the achievements of Susan La Flesche Picotte, the first Native American woman to earn a medical degree.
4th through 8th Grades
Sacagawea was the Native American woman from the Lemhi Shoshone tribe who assisted members of the Lewis and Clark Expedition from 1803 to 1806.
4th through 8th Grades
A United States map showing the regions of Native Americans and many of the major tribes found in each region.
Students use crayons to color a map of Native American tribal regions found in the United States.
Social Studies Worksheets
We have a huge collection of Social Studies worksheets. Topics include map skills, colonial America, the Revolutionary War, U.S. States and capitals, communities, and economics.
Thanksgiving Worksheets
You'll find even more Native American-related printables on our Thanksgiving page.