Multiplication by 3-Digit Numbers
With these multiplication worksheets, student can practice multiplying by 3-digit numbers. (example: 491 x 612)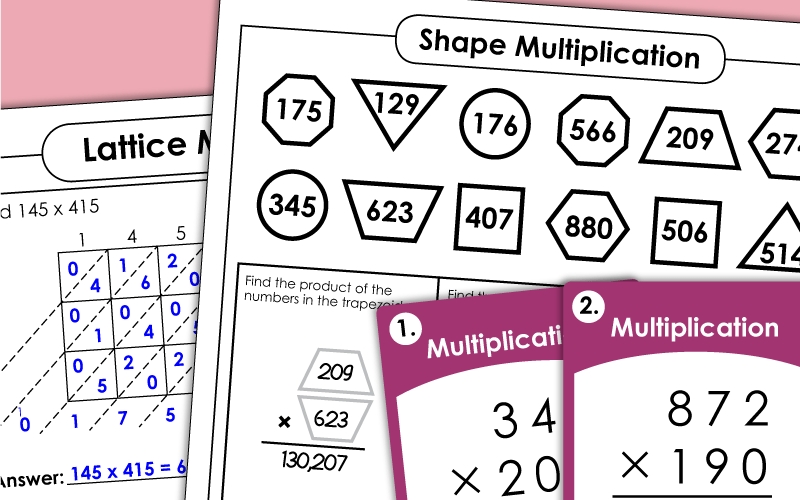 Graph Paper Math Drills; 3-digits times 3-digits (example: 667 x 129)
4th through 6th Grades




Logged in members can use the Super Teacher Worksheets filing cabinet to save their favorite worksheets.
Quickly access your most used files AND your custom generated worksheets!
Please login to your account or become a member and join our community today to utilize this helpful feature.

Each problem on this worksheet is written horizontally. Students rewrite the problems vertically and solve. (example: 334 x 109)
4th and 5th Grades
Find the products of the numbers in the specified shapes. For example: "Find the product of the numbers in the hexagons."
4th through 6th Grades
This file has 30 task cards with vertical 3-digit by 3-digit multiplication problems.
4th through 6th Grades
Multiplication Worksheet Generator Tool
Make your own customized multiplication worksheets with this tool. You simply choose the number of digits you'd like in the first and second factor. Tell if you'd like the problems horizontal or vertical. There are also options to include word problems.
For this activity, students will use a lattice grid to calculate the products of numbers. Includes an explanation and many practice grids.
4th through 6th Grades
This page has six blank lattice grids. Each one is designed for multiplying pairs of triple-digit numbers.
4th through 6th Grades
Basic Multiplication Worksheets
This page will link you to several categories of basic multiplication exercises.