This page has a collection of printable (PDF) geometry worksheets for calculating the areas of circles.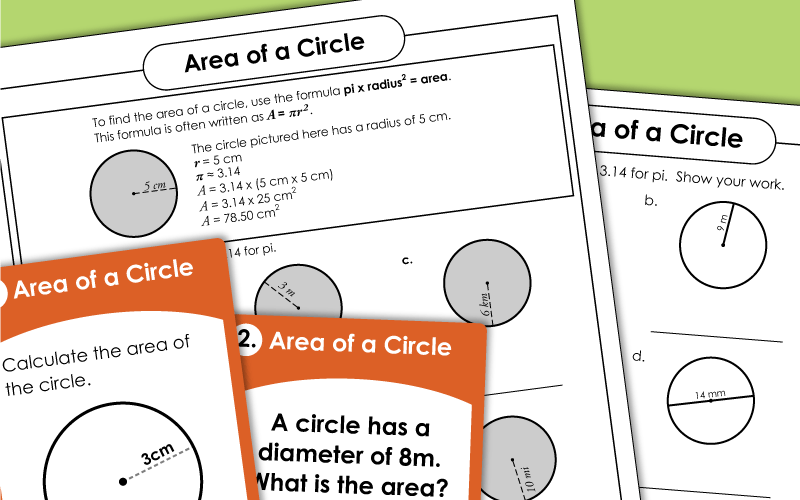 Students use the formula to calculate the area of each circle.
6th through 8th Grades




Logged in members can use the Super Teacher Worksheets filing cabinet to save their favorite worksheets.
Quickly access your most used files AND your custom generated worksheets!
Please login to your account or become a member and join our community today to utilize this helpful feature.

Calculate the area of each of the eight circles shown.
6th through 8th Grades
This area-of-a-circle worksheet has an explanation and example at the top of the page.
6th through 8th Grades
Determine the area of each circle shown. This worksheet includes radius amounts with double digit numbers and areas with decimals.
6th through 8th Grades
Students will need to find both the area and circumference for each circular shape.
6th through 8th Grades
If you're looking for an alternative to worksheets, try these printable task cards. Each one of the thirty cards in this set has a picture with an "area of a circle" math problem.
6th through 8th Grades
Radius, Diameter, Circumference
These worksheets cover circumferences of circles, and well as introductions to radius and diameter.
Area of Triangles
Find the areas of the triangles using the correct formula.
More Area Worksheets
This page will connect you to worksheets on areas of rectangles, parallelograms, trapezoids, and surface area.
Geometry Worksheets
Here's an index page that will link you to all types of different geometry worksheet topics, including perimeter, plotting points, volume, similar/congruent, polygons, solid shapes, and more.