Word ladder puzzles can be used to teach phonics, reading, and vocabulary. Students use critical thinking skills to change letters in words to make new words.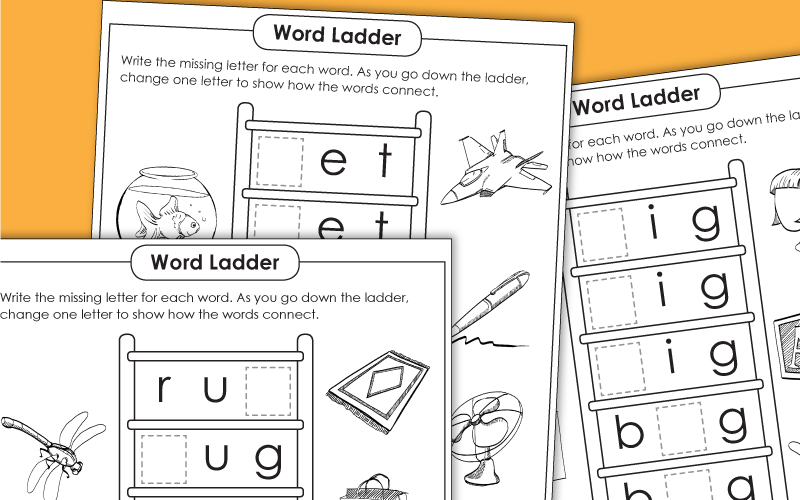 In this puzzle, students build the words rug, bug, bag, bat, rat, and hat.
Pre-K through 1st Grade

Logged in members can use the Super Teacher Worksheets filing cabinet to save their favorite worksheets.
Quickly access your most used files AND your custom generated worksheets!
Please login to your account or become a member and join our community today to utilize this helpful feature.

Words in this word ladder puzzle include jet, pet, pen, pan, fan, can.
Pre-K through 1st Grade
Change log to hog, then hog to hot, then hot to hat, then hat to mat, then mat to man.
Pre-K through 1st Grade
Complete the word ladder by filling in the missing letters. Words include: wig, pig, big, bag, bug, mug.
Pre-K through 1st Grade
Students build simple CVC words to complete the puzzle. List includes: cot, cop, map, pot, pop, and mop.
Pre-K through 1st Grade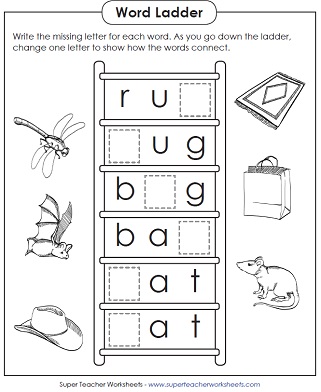 Phonics Worksheets
STW has hundreds of phonics worksheets, mini-books, word wheels, flashcards, and learning centers.