Print out the blank and labeled maps, puzzles, fact sheets, and other activities when you need materials to help your students learn about the State of Wisconsin..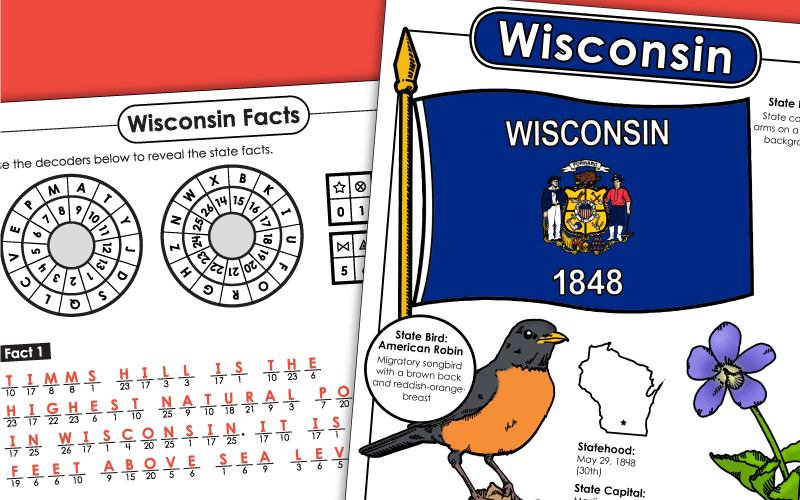 Color the Wisconsin flag, state bird (American Robin) and the state flower (Violet).
3rd through 5th Grades

Logged in members can use the Super Teacher Worksheets filing cabinet to save their favorite worksheets.
Quickly access your most used files AND your custom generated worksheets!
Please login to your account or become a member and join our community today to utilize this helpful feature.

Learn about the geographic details of the state of Wisconsin with this printable map. The state capital, Madison, and several other large cities are labeled as well as bodies of water and neighboring states.
4th and 5th Grades
Color this map of Wisconsin. Then add and label the major cities, towns, lakes, and rivers.
This map has small dots for cities. Label the cities, rivers, lakes, and surrounding states.
This Wisconsin map has major cities and towns labeled, such as Milwaukee, Madison, Green Bay, and Eau Claire.
This blank map of Wisconsin does not show the bordering states or the Great Lakes.
Print this page to use with your students when learning about the state of Wisconsin's flag.
3rd through 5th Grades
Wisconsin's flag has some interesting details! Having students color it in can help them remember what they've learned about it.
3rd through 5th Grades
Do your students know what all the symbols on Wisconsin's seal mean? Use this printout to teach them.
3rd through 5th Grades
This black-and-white version of the Wisconsin state seal can be colored in for a fun activity to do with students learning about their state.
3rd through 5th Grades
Learn a couple new facts about the State of Wisconsin by solving this cryptogram puzzle.
4th and 5th Grades
Students will search through the jumbled letters to find words such as: Wisconsin Dells, Timms Hill, sugar maple, Milwaukee, Madison, Lake Superior, Green Bay, Door Peninsula, and badger state.
3rd through 6th Grades
Reorganize the mixed up letters to reveal these Wisconsin-themed words. Find the state tree, state nickname, highest point, and several others.
3rd through 6th Grades
Penelope is visiting America's Dairyland and meets some real cheeseheads.
4th through 6th Grades
Have your students figure out which state is shown and then answer the questions at the bottom of the page.
4th and 5th Grades
List of 50 States Pages
This page serves as a directory for all fifty of the US states so you can easily find their worksheets.
50 States and Capitals
Find puzzles, maps, longitude and latitude worksheets, and more featuring the fifty states and capitals.
More Social Studies
Find printable worksheets to enhance your social studies lesson from the variety found on this index.