Print out maps (labeled and blank), mystery pictures, puzzles, and other activities so your class can learn about the State of West Virginia.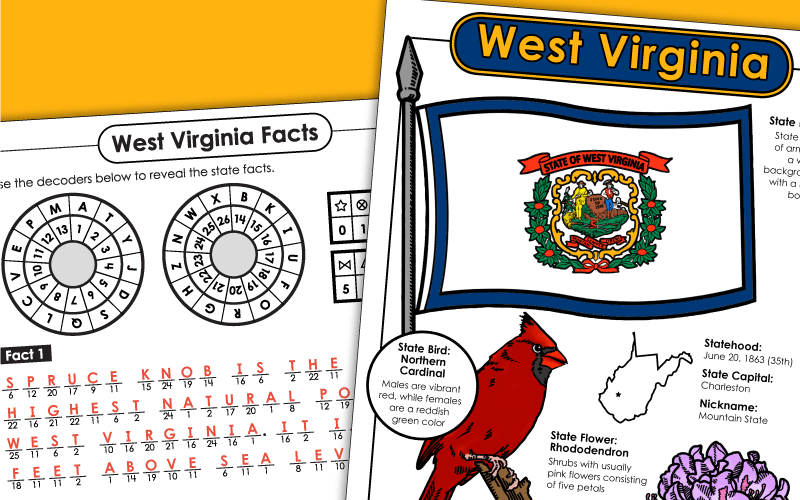 Your class can use this coloring sheet to learn about the Northern Cardinal, the state bird of West Virginia, and the Rhododendron, the state flower.
3rd through 5th Grades

Logged in members can use the Super Teacher Worksheets filing cabinet to save their favorite worksheets.
Quickly access your most used files AND your custom generated worksheets!
Please login to your account or become a member and join our community today to utilize this helpful feature.

Your students will love learning about the state of West Virginia with this printable color map. This map is labeled and is also available in black and white (ALT version).
4th and 5th Grades
Color and label this blank map of West Virginia. Map includes dotted lines to show the boundaries of surrounding states.
Label the major cities on this blank map of West Virginia. Then, follow the directions on page two to complete the project.
On this West Virginia map, you'll see labels for the cities of Charleston, Huntington, Parkersburg, and Morgantown. Lakes and rivers are also shown, including Spruce Knob Mountain, Summersville Lake, the Potomac River, Bluestone Lake, and the Ohio River.
This blank map of West Virginia does not show the nearby states.
Use this colorful page to show students the flag of West Virginia.
3rd through 5th Grades
Color in West Virginia's flag using colors closest to those on the actual flag.
3rd through 5th Grades
Use this page to show your students what the West Virginia seal looks like.
3rd through 5th Grades
This black-and-white version of the West Virginia state seal makes for a great coloring activity.
3rd through 5th Grades
Did you know that almost the whole state of West Virginia is located in the Appalachian Mountains? That has earned it the nickname "the Mountain State".
4th and 5th Grades
Students will search through the jumbled letters in the box to find words like: Spruce Knob, rhododendron, Parkersburg, New River Gorge Bridge, Morgantown, Harpers Ferry, coal mining, and Appalachia.
3rd through 6th Grades
Test your skills at unscrambling these words featuring the state of West Virginia. Some of the words are important geographical features and others are state symbols.
3rd through 6th Grades
Miss Peabody goes spelunking in Organ Cave, has breakfast at the Mountain State Diner, and learns about local coal mining.
4th through 6th Grades
Use a map of the USA to determine which state is featured on this worksheet and then write state factual information on the lines on the bottom.
4th and 5th Grades
50 US States (Full List)
This page is a directory so you can easily find the page for any of the fifty US states.
50 States and Capitals
Boost your social studies lessons with these worksheets featuring the fifty states and capitals.
More Social Studies Topics
Some of the topics you can find on this index page include: branches of US Government, the American Revolution, US Presidents, Native American history, and more.