Print out labeled and blank maps, mystery pictures, puzzles, and other activities so your students can learn about the southwestern State of New Mexico.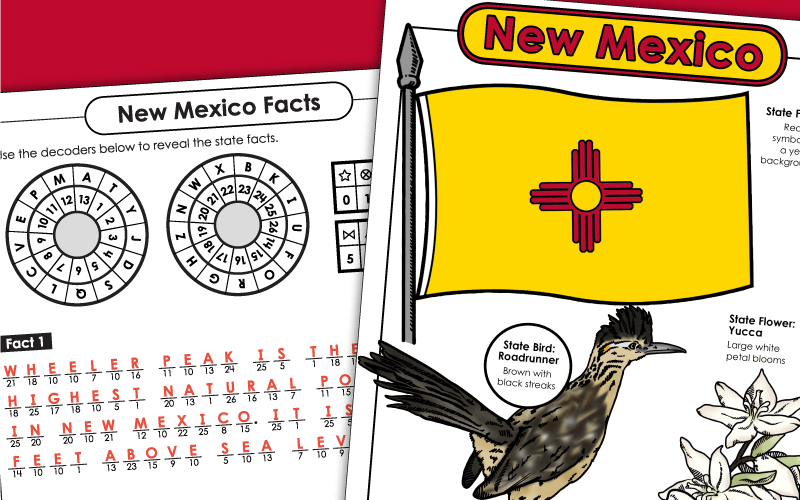 After solving this puzzle, your students will learn about the highest point in New Mexico, as well as the state bird and state animal.
4th and 5th Grades
This New Mexico word search puzzle features words such as: Yucca, White Sands Monument, Wheeler Peak, Santa Fe, roadrunner, Pecos River, land of enchantment, Carlsbad Caverns, and Albuquerque.
3rd through 6th Grades
Challenge your students to unscramble these words related to the state of New Mexico. The words are important state symbols and geographical landmarks.
3rd through 6th Grades
Penelope had a terrific time driving inside the caves at Carlsbad Caverns, but now she's spilled coffee on her map. Where is she?
4th through 6th Grades
After finding out which state is pictured, write down the state capital, state nickname, state bird, and bordering states on the lines at the bottom.
4th and 5th Grades
Complete Index of 50 US States
Click this link to find a full listing of all fifty US states and their pages.
50 States and Capitals
Find puzzles, maps, longitude and latitude worksheets, and more featuring the fifty states and capitals.
Social Studies - Complete List
Check out all of the topics available from this complete listing of social studies pages.