Print out worksheets from the variety of activities, maps, and puzzles from this page to teach your students facts about the State of New Jersey.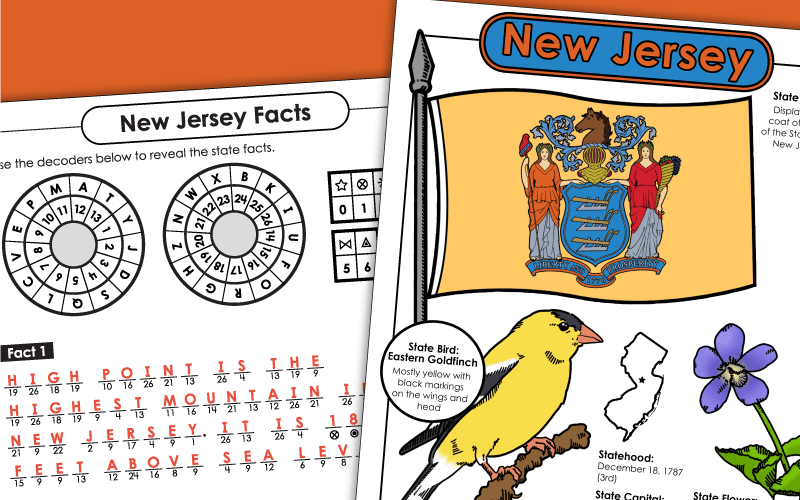 This coloring worksheets has students coloring the state flag of New Jersey, as well as the state bird and flower.
3rd through 5th Grades

Logged in members can use the Super Teacher Worksheets filing cabinet to save their favorite worksheets.
Quickly access your most used files AND your custom generated worksheets!
Please login to your account or become a member and join our community today to utilize this helpful feature.

Your students will love this printable color map of New Jersey. In addition to being labeled with cities and bodies of water, there is also a section highlighting the state tree, flower, and bird.
4th and 5th Grades
Students label and color this blank map of New Jersey.
This New Jersey map has markers for cities of Asbury Park, Atlantic City, Camden, Jersey City, New Brunswick, Newark, and of course, Trenton.
This New Jersey map includes the labels for Trenton, Camden, Atlantic City, and Newark. This map also shows the Atlantic Ocean, Delaware Bay, Delaware River, Great Bay, and the Hudson River.
This blank map of New Jersey does not include bordering states.
Use this image of the New Jersey state flag with students learning about the state.
3rd through 5th Grades
Color in this outline on the New Jersey flag.
3rd through 5th Grades
New Jersey's state seal says "liberty and prosperity." Show your students what it looks like with this printout.
3rd through 5th Grades
Students learning about the state of New Jersey will benefit from this black-and-white printout of the state seal.
3rd through 5th Grades
Your class will learn about the highest point in New Jersey, as well as the discover the state bird when finished solving this puzzle.
4th and 5th Grades
Find words such as: Atlantic Ocean, Princeton, Newark, and Garden State in this New Jersey-themed word search puzzle.
3rd through 6th Grades
Your students will have fun trying to solve these scrambled word puzzles to reveal important geographical features and state symbols for New Jersey.
3rd through 6th Grades
Penelope learns that the New York Giants' stadium isn't really in New York. It's actually in the Garden State.
4th through 6th Grades
Using a map of the USA to help, figure out which state is shown on this worksheet. Then write down the state capital, state bird, state nickname, and bordering states.
4th and 5th Grades
Full List of 50 States
Looking for state maps and worksheets? Find any of the fifty states on this page.
50 States and Capitals
Boost your social studies lessons with these worksheets featuring the fifty states and capitals.
Social Studies - Complete List
Your students will learn about the branches of US government, American history, and other topics with the printable worksheets found from this index.