Below you will find an array of printable worksheets featuring the State of Montana for your students to learn from.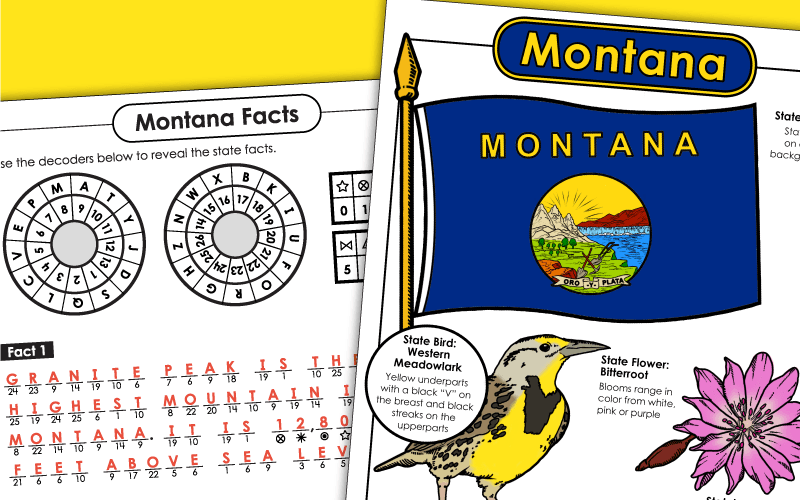 This coloring worksheets has students coloring the state flag of Montana, as well as the state bird and flower.
3rd through 5th Grades

Logged in members can use the Super Teacher Worksheets filing cabinet to save their favorite worksheets.
Quickly access your most used files AND your custom generated worksheets!
Please login to your account or become a member and join our community today to utilize this helpful feature.

This pdf file is a printable color map of Montana. The capital, Helena, is labeled along with several other prominent cities, mountains, rivers, and bordering states and Canada.
4th and 5th Grades
Students label and color this blank map of Montana.
This Montana map has markers for cities of Billings, Butte, Helena, and Missoula. Students print the names of the cities , rivers, and lakes.
This Montana map includes the labels for Butte, Billings, Helena, Missoula. This map also shows Bighorn River, Clark Fork, Flathead Lake, Fort Peck Lake, the Milk River, the Missouri River, and the Yellowstone River.
This blank map of Montana does not include bordering states.
Glacier National Park covers spans over a million acres of Montana. It is home to many animals, including moose, wolverines, grizzly bears, and lynxes.
4th and 5th Grades
Print out this colorful page so students can see what the Montana state flag looks like up close.
3rd through 5th Grades
Have students color in this flag of Montana.
3rd through 5th Grades
Montana's seal shows off some of the beautiful land features the state is known for. Print off this page to share it with students.
3rd through 5th Grades
This printout makes for a great coloring activity for students learning about the state of Montana.
3rd through 5th Grades
Your students will discover that the grizzly bear is the state animal of Montana and that the highest mountain is Granite Peak.
4th and 5th Grades
In this Montana word search puzzle, students hunt for words such as: Yellowstone River, Triple Divide Peak, treasure state, Makoshika State Park, Helena, Glacier National Park, Billings, and big sky country.
3rd through 6th Grades
Test your skills at unscrambling these words related to the state of Montana. The words are important geographical landmarks and state symbols.
3rd through 6th Grades
Miss Penelope Peabody returns to her home in Butte, Montana.
4th through 6th Grades
Using a map of the USA, figure out which state is featured on this worksheet. Then find the answers to the questions on the bottom.
4th and 5th Grades
Index of 50 US States
Find printable worksheets and activities for any US state by entering this page.
50 States and Capitals
Use the printable activities and worksheets to teach your students about the states and their capitals.
Social Studies - Full List
Some of the topics you can find on this index page include: the American Revolution, US Presidents, women's history, Native American history, and more.